Indian Gift Basket Ideas
29 Jul 2011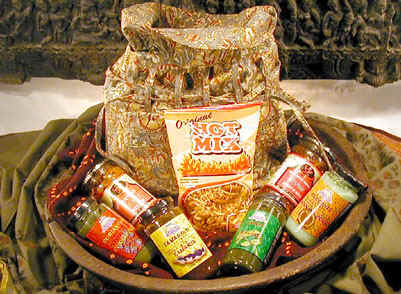 Indian gift basket is a thoughtful gift for any occasion, be it Diwali, Holi, or Dusshera. It is important to decide your budget before making the basket so that things can be planned accordingly. In case the stuff that you need for the basket is not available at any store in town, look for them at online stores. Keep in mind the food preferences and the dietary limitations of the recipient, if any, while packing the basket. Here are some simple ideas which can help you in making the perfect Indian gift basket. 
Foods to Include in An Indian Gift Basket
Staples: The staples of the Inidian cuisine must definitely be included. These are - bajri, atta (whole wheat flour), rice, and an array of pulses.
Spices: Most popular spices of the Indian cuisine include black mustard seed (sarso), fenugreek (methi), chilli pepper, turmeric (haldi), ginger (adrak), coriander (dhania), asafoetida (hing), cumin (jeera), and garlic (lehsun).
Dessert: Barfi (a sweet prepared from dried milk), jalebi (a sweet prepared by deep-frying flour in a coil-like which is dipped in sugar syrup), Kheer (a sweet rice pudding, which is made with rice and milk), and ladoo (a sweet balls from flour and dipped in sugar syrup) are popular sweets which can be added to the basket..
Indian Gift Basket Ideas: The Basket
A wicker basket or a straw basket is an ideal choice for making the gift basket. Decorate the basket a little bit using flowers or colorful ribbons. Use shredded paper, napkins, or hand towels as liners for the basket. Arrange the products one-by-one on top of the base. After the products are neatly arranged, use cellophane to pack the basket. Make sure that the plastic wrap you use is suggested for direct contact with edible items. For packing it, place the basket in the centre of the cellophane which must be about 3 times bigger than the actual size of the basket. Pull the sides of the cellophane sheet upwards and secure it using a ribbon. Add some colorful ribbons to decorate the basket along with a gift tag on top.
These tips will help you to make a perfect Indian gift basket which will delight the receiver for sure.  
Image credits : indianfoodsco.com
Indian Gift Basket Ideas