San Francisco Gift Basket Ideas
22 Jul 2011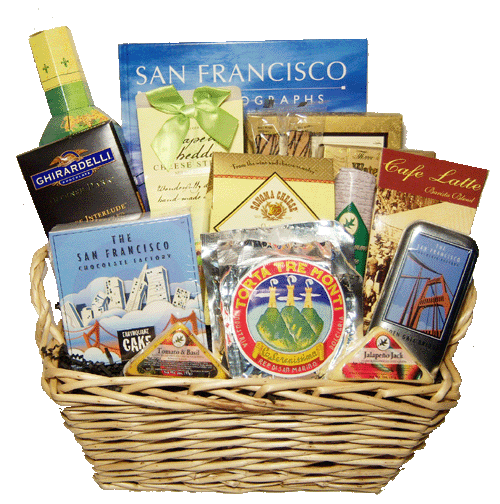 A San Francisco gift basket is a thoughtful gift for any occasion. Make the gift basket look nice and I will tell you how that can be done with a little effort. The San Francisco gift baskets that are readily available in local or online stores are not only expensive but restricted in choice as well. Here is how you can make one at home so as to win the recipient's heart.
San Francisco Gift Basket Ideas: Foods to Include
Sushi – it is truly a local obsession in San Francisco. You can include its ingredients and recipe.
Dim sums and other Chinese foods – Dim sums can be included in the basket. As far as other Chinese specialties are concerned, you can add Chinese noodles which are available in different shapes and textures in specialty stores. Then you can add Chinese sauces and seasonings including soy sauce, oyster sauce, hoisin sauce, fish sauce, peppercorns, cinnamon, and cloves.
Liquor - Add bottles of beer, wine and vodka to the gift basket. 
San Francisco Gift Basket Ideas: The Basket
Buy a wicker basket or some decorative basket. Form its base using napkins, hand towels or shredded paper. Neatly arrange the products on top of the base.  
Seal the basket with heat-sealable plastic gift wrap. They are available in diverse colors and designs. Before covering the basket with the plastic wrap, make sure that it is suggested for direct contact with edible products.
Cut the plastic wrap in a way that it is 3 times bigger than the actual size of the basket. Place the basket in the middle of the sheet and pull up its sides. Secure the sheet with sellotape and tie a ribbon over it.
Use trinkets and bows to decorate it further.
A San Francisco gift basket is one of the best ways to say happy birthday, get well or thank you to a loved one. But make sure to decide the budget before making the gift basket. The price will vary according to the items you will buy for the basket.
Image credits : thebestgourmetgifts.com
San Francisco Gift Basket Ideas