New York Gift Basket Ideas
21 Jul 2011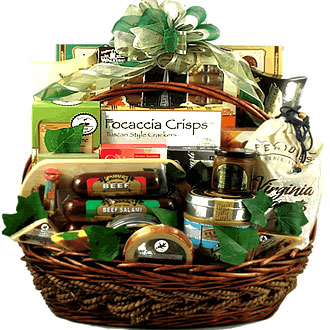 A New York gift basket is the best way to say thank you to a friend who loves the New York cuisine. Whether as a gift for an anniversary, as a New Year gift, or a Christmas gift, this gift basket will surely please the receiver. Here's how you make it easily without having to spend a lot of money.
New York Gift Basket Ideas: Foods to Include
Baked Pretzels- These are foods which are prepared using dough in a distinctive knot-like shape. They can be made soft or hard and savory or sweet. Add the recipe.
Black and White Cookie - A black and white cookie is a soft shortbread whose white part is due to the icing of vanilla fondant, and the black half is made using dark chocolate fondant. Add the recipe of this cookie.
New York-style pizza, reuben sandwich, muffins, knish and strip steak can be purchased from a specialty store and arranged neatly over the base in the basket. Add cans of Dr Brown's soda and bottles of beer.
New York Gift Basket Ideas: The Basket
When making the basket at home, you must first of all decide the budget. A pre-decided budget will make your planning easy. The add-ons that have to be added to the basket also depend on the budget to an extent. There are several retailers that may offer some discounts. Research well before you buy things for making this gift basket.
You can decorate a simple basket using colorful ribbons or flowers. Use shredded paper to make its base and add the items neatly on top. Cover the basket with a cellophane sheet and add a gift tag along with a bow on top.
These are just some suggestions for making a beautiful gift basket. Using your creativity or adding a personal touch will certainly add more to their appeal. These gift baskets will be appreciated by one and all. So, go ahead and make your own New York gift basket.
image credits: adorablegiftbaskets.com 
New York Gift Basket Ideas