Greek Gift Basket Ideas
15 Jul 2011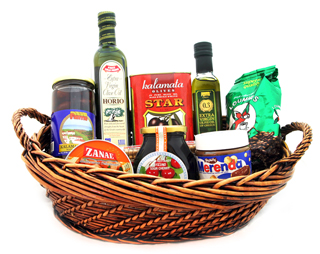 A Greek gift basket can be gifted for birthdays, holidays, name days or even no reason at all. If you want to know how to pack a Greek gift basket, read on for some great Greek gift basket ideas below.
Shopping for Food Gifts
While shopping for food gifts to be added to the Greek gift basket look for genuine Greek products such as sea salt, herbs, large containers containing olive oil, barrel-aged feta, specialty pastas, spices, gourmet foods, organic items and thick phyllo dough. In case you are not able to find authentic Greek stuff at the local shops, look for them at online Greek stores.
Build a Gift Basket
Use some creativity and you will have the best gift basket by your side.
Take a decorative basket and add to it homemade sweet Greek treats such as custard pastry, fried honey pastry, jam tart, nut-filled phyllo pastry or any other specialty sweet. Keep it along with a useful kitchen tool, gadget, or utensil. Add the scroll of the recipient's favorite Greek dish recipe and tie it using some colorful ribbons. Alternatively, the basket can also be made at home using mortar and pestle combined with special Greek herbs and spices.
For Greek coffee lovers, use a traditional coffee pot as the basket and fill it with a package of Greek coffee along with a set cups and saucers. Do not forget to add to the basket a recipe of Greek coffee. You can easily get it on the internet.
For those who love tea, use teacup as the basket. Add packets of imported Greek tea such as Mountain or Camomile. Also place organic Greek honey by the side of the tea packets. For herbal teas, put wildflower honey while add a bottle of pine honey that goes perfectly with Camomile. Any Greek sweet that tastes good with tea may also be added. Pack all these decoratively in a tea cup.
Homemade Greek Food Gifts
Greek food must certainly be added to the basket. Cookies such as honey-dipped spice cookies, sugared shortbread cookies, cakes, pastries and spoon sweets will never fail to delight a Greek food lover.
Essential Greek Products for the Kitchen
It is obvious that Greek products will help in preparing the best Greek dishes. And anyone who likes to make Greek food will undoubtedly want to have the specialty ingredients in his kitchen. A few basic Greek items you must include are: Greek cheese, Greek olive oil, Greek honey, Greek oregano and phyllo dough.
Follow these tips properly and you will end up making a Greek gift basket which will be appreciated by the recipient. 
image credits : christosmarketplace.com
Greek Gift Basket Ideas