Jewish Gift Basket Ideas
15 Jul 2011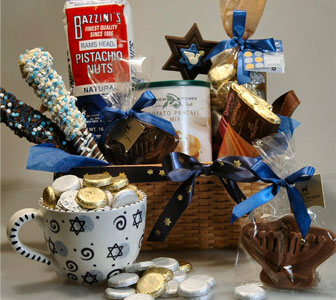 Jewish gift basket can be gifted on any occasion, but all the more on the Jewish New Year. It includes Jewish specialties and will be much appreciated by those who love Jewish food. Pack the basket with food items that are liked by the recipient. Here are some Jewish basket ideas.
Jewish Gift Basket Ideas: Foods to Include
Breads and cake – Bagels, black bread and white bread are popular in Jewish cuisine. Add packets of these breads into the basket. Breads and cakes form a part of the Jewish New Year and other chief Jewish occasions and weddings.
Sweets – ginger candies, locally called Ingberlach, and jellies made from fruit juices are popular sweets eaten by the Jewish. You can add packets of jellies and the ingredients required for making Ingberlach.
Fish – Fish is eaten by Jewish since the ancient times. It gradually became a staple of the Jewish diet. You can include in the basket Gefilte fish and lox as these are the most popular fish eaten by the Jewish.
Jewish Gift Basket Ideas: The Basket
Choose a basket of appropriate size. Select a size that neither gets over stuffed nor does it remain too empty. Lay shredded paper, kitchen towel, hand towel or napkins as the base of the basket and then start arranging the goodies on top of it. Avoid adding perishable food items to the basket as there always remains a risk of being spoilt. Instead you may add Jewish canned foods, if desired. Cover the basket with a clear plastic sheet. Adorn it using colorful ribbons and add a gift tag. The basket is now complete.
This beautiful Jewish gift basket will be loved by the receiver. Readymade baskets are also available online and you can get them shipped directly to the recipient's address.
Image credits : challahconnection.com
Jewish Gift Basket Ideas