Pecan Gift Basket Ideas
15 Jul 2011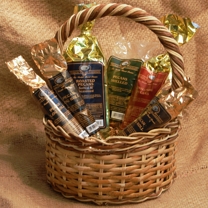 A pecan gift basket is the best way to say thank you to a pecan-loving friend. Here are some great pecan gift basket ideas.  
Mixed Nuts
When making pecan nut basket, add other nuts too. Add color to the basket by keeping the nuts in painted tin cans. Alternatively, you may simply make use of divider and colored saran wrap for covering in order to make the basket colorful. Pack the pecans in reusable jars so that they can be used as serving platters or storage containers later. Add different varieties of pecans including chocolate covered pecans.
Baked Goods
Add a touch of personalization to the gift basket by adding some delicious homemade goodies, such as pecan pies and rolls. They may also be purchased from a local bakery shop. Cover them individually and put in a tin or over some decorative plate in order to prevent them from sticking to one another. Place the recipe cards along with the goodies so that they can be prepared by the recipient later.
Accompaniments
Next to the tins, place some packets of butter, cappuccino and a jar of honey to make it a perfect breakfast gift. Make sure that you add things which match in hue. Anything which is contrast in clor can be packed in a similar tone and then placed in the basket. Add some colorful ribbons to these packages to make them look attractive.  
Themes
You can make an animal-themed pecan gift basket by adding stuffed toy versions of nut eaters such as squirrels or brown bears. This will add a cute air to the basket.
A pecan gift basket can either be created on your own or it may be purchased readymade from the market. If you make it at home you will be able to customize it according to the recipient's requirement and add products keeping in mind your budget. 
image credits : vidaliapecans.com
Pecan Gift Basket Ideas