Strawberry Gift Basket Ideas
15 Jul 2011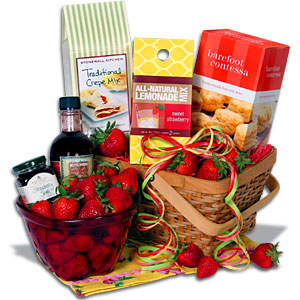 A strawberry gift basket is a great gift for all occasions. It is readily available in the market or can be made at home. When made at home, the contents of the gift basket can be customized according to the preferences of the recipient. Alluring packaging makes the basket look attractive. Read on for some strawberry gift basket ideas.
Strawberry Gift Basket Ideas: The Strawberry
There are several types of the fruit strawberry candy that are present in the market. Pick up fresh strawberries. In addition to the fruit, add strawberry sauce, strawberry jam and biscuits immersed in the dark strawberry candy to the basket. Add a touch of elegance by adding a box of chocolate-dipped strawberries to the basket. Crafted strawberries will be a unique addition. Other fruits can be added according to the the personal choice of the recipient. Add chocolates to the basket and you will have the perfect Valentine's Day gift ready for you special someone. The basket can also be packed for a holiday purpose as some people tend to celebrate special occasions outdoors.  
Strawberry Gift Basket Ideas: The Basket
Use colorful shredded paper filling to serve as the base of the strawberry basket. Place the strawberries and other accompaniments on top the base and fill in the paper in between the strawberries so as to fit them tightly. 
Seal the fruit basket using a heat-sealable plastic gift wrap. These are available in different colors and designs. Pick the one that you like. Before protecting the fruits with the plastic wrap, make sure if it is recommended for direct contact with edible products.
Add some ribbons or some trinkets to make the basket look nicer.
A strawberry gift basket must be packed carefully such that the strawberries are not ruined. Decorate it properly and your gift won't fail to impress the recipient.
image credits : gourmetgiftbaskets.com
Strawberry Gift Basket Ideas