Vegetarian Gift Basket Ideas
14 Jul 2011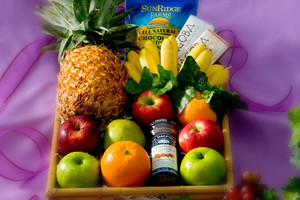 Vegetarian gift basket is a perfect gift idea for those who maintain a humane, healthy as well as an environment-conscious lifestyle. Keep this in mind while making the basket so that the recipient can make the best use of your gift. Look for online or local resources to pick up appropriate foods for the gift basket.
The Food Items
When filling the basket, you may focus on a particular theme such as herbal teas or pure sweets. Organic fruits and nuts are other great options that can be added to the vegetarian gift basket. 
If lots of gifts are to be given, you can make small cookie baskets for your closest friends or relatives. An array of food items can be arranged as a gift for a birthday celebrant.
Do not add foods which are high in calories or cholesterol. If oil is used in any of the foods which are used, make sure it is certified vegetarian oil without animal fat. Thoughtfulness will be best represented when the basket will be packed with some homemade food as the effort put in making something will be given away to a loved one. If you want to add some homemade bakery items such as cookies, make sure their ingredients adhere to the vegetarian diet.
The Basket
Do not pick up any gift basket. Make sure that the chosen basket is made using natural, cruelty-free material. Put some colorful paper strips as the base. Arrange the items in a well-balanced and eye-pleasing manner. After the items are arranged, cover the basket with a clear plastic wrap. Tie the knot of the wrap using a naturally made ribbon.
Vegetarian gift baskets will serve to be a good gift for any occasion.  Just make sure that the products are packed in in attractive packaging which makes the basket a visual delight.  Opening the products will offer a nutritious delight.  You may revamp some old mugs, candles or frames and add them as an accessory or a complementary gift to the vegetarian gift basket.
image credits : downtoearth.org
Vegetarian Gift Basket Ideas