Nuts Gift Basket Ideas
1 Jul 2011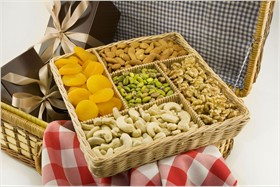 A nuts gift basket is perfect for snack-lovers. It usually includes an assortment of salted and sweet nuts, such as salted peanuts and chocolate covered peanuts. You can always customize the gift basket by adding nuts that will be liked by the recipient. You may add other products too. Nuts can be accompanied by candies, jellies, or even nut accessories.
Cost for Gift Baskets
You must decide the range of your budget before making the gift basket. The price depends on what has to be included and from where you buy these products. If you want to include add-ons, you will have to raise the budget too. Look for discounts. If you wish to buy multiple baskets, some retail outlets or online stores may sell them to you at a price lower than the actual one.  
Nuts Gift Basket Ideas
Choose the basket size according to the amount that you have to fill it with. Try to add more variety. Add roasted peanuts, pecans, salted pistachio, chocolate-coated cashews. Add some seasoned nuts, like honey or barbecue-flavored almonds for an exotic and rich feel. Include dried fruits, as they will complement the nuts. Buy dried apricots and pineapple slices. Buying some gourmet nut-inspired items like almond butter, nut truffles and pralines is also a great idea. Nut accessories including nut glazing brushes, oven mitts and sealing tape are perfect accompaniments. 
Shopping for Nuts - Online or Local
Whether you shop for nuts online or at some local store, make sure you buy the best quality nuts. It will create a good impression if the nuts in your gift basket are crisp and fresh. In case you are aware of any nut allergies of the recipient, choose the nuts accordingly. Go for organic and gluten-free products in such cases.
If you are buying a readymade nuts gift basket online, see if it can be shipped to the recipient directly. Again, many retailers online offer nuts gift baskets in a variety of sizes and costs. Take your time when shopping online to ensure that you find the highest quality. You want to be certain that the nuts and other foods in the basket are the freshest possible. Check also to see if you can have the basket shipped directly to your gift recipient. Get it shipped directly if this gift basket is meant for someone who lives far.
Finest nuts combined with dried fruits and nut accessories will assemble to form the perfect nuts gift basket for you. Whether as a gift for an anniversary, as a host gift, or a Christmas gift, this gift basket will surely please the recipient.
image credits : site.superiornutstore.com 
Nuts Gift Basket Ideas