Cheese Gift Basket Ideas
30 Jun 2011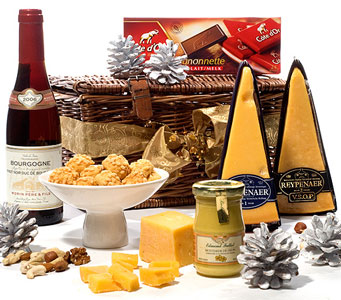 If you want to give a cheese connoisseur a creative gift for birthday, anniversary or any other occasion, here are some cheese gift basket ideas to consider. Apart from delectable cheese, a cheese gift basket must also have some useful cheese-related tools.
Cheese Gift Basket Ideas: What to Add
Gather sufficient items for the cheese gift basket so that your friend can carry it for a picnic or to the beach. Fill it with different varieties of cheese.  Add accompaniments including crackers, beer or wine, nuts, cookies, plates, glasses, napkins, cheese knife and cutting board.
You can make an eco-friendly cheese gift basket. Include an assortment of rich and organic cheeses, wine and crackers. Some locally produced varieties of cheese may also be added.
If the recipient loves to cook, add a cookbook that features tasty cheese recipes. If would be a great idea to add tools including cheese knife, handy microplane required for grating cheese and a platter.
Cheese Gift Basket Ideas: The basket
First gather the goodies and then choose a basket of appropriate size. After the treats are arranged, the basket must be covered with designer cellophane sheet. Add dried flowers or some ribbons along with a gift tag on top.
Give the basket a look that will be appreciated by the recipient. For this, you must be certain about the recipient. If you are making the cheese gift basket for kids, it should be jazzy and colorful. Add some candies to attract kids. Add some personal notes and a bottle of wine if the basket has to be gifted to a special person so that he/she values the gift for life.
You will rarely come across people who grossly dislike cheese. A creatively made Gourmet Cheese Gift Basket with cute personal touches and good cheese tools is sure to impress one and all, irrespective of their age and gender. Experience the pleasure of satisfaction by gifting a cheese gift basket.
image credits : clubwin-e.com
Cheese Gift Basket Ideas