Vegetable Gift Basket Ideas
30 Jun 2011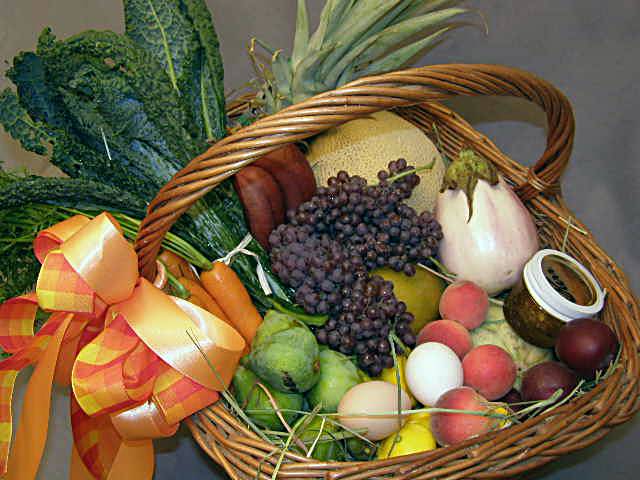 Making a great vegetable gift basket is easy. Just add an assortment of fresh vegetables in a special basket and the gift is ready. Since this gift is loaded with nutrition, it makes a perfect gift for recovering patients, old age and diet conscious people. Make the basket presentable by embellishing it a bit and the recipient will cherish your gift basket for years to come.
Vegetable Gift Basket Ideas: Choosing the Vegetables and Basket
Add fresh vegetables including tomatoes, capsicum, cucumber, carrots, turnip, potato and others to the basket. In case you are aware of the preferences of the receiver, make sure you include those.
Choose a basket according to the vegetables that you wish to fill. Choose a durable basket with a single handle as it is easy to carry back and forth.  
Choose a basket color which is liked by the recipient. If in doubt, pick a bright color or pick up a natural wicker basket.
A recipe book can be added to the basket. Bookmark a favorite recipe of the receiver and pack its ingredients too inside the basket.
Vegetable Gift Basket Ideas: Packing the Basket
Use shredded paper filling as the base of the basket below the vegetables. Fill in this paper in between the vegetables so that the treat fit tightly. 
Cover the recipe book using a wrapping paper. Let it be a surprise for the receiver which shall be unveiled as soon as the basket is unpacked.
Use cellophane paper to cover the basket. Place the basket in the middle of the sheet and pull its sides up. Seal the wrap with a ribbon.
Add a gift tag or some trinkets to make the basket look more appealing.
A vegetable gift basket is not only an appealing but a nutritious gift too which will surely be appreciated by the receiver.
image credits : edensbower.com
Vegetable Gift Basket Ideas