Meat Gift Basket Ideas
30 Jun 2011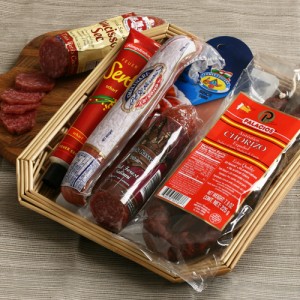 Meat gift baskets make thoughtful gifts for those who eat meat. Meat baskets when arranged in picnic style make great birthday or anniversary gifts for those who are already planning to spend their special day outdoors. Before buying meat for the basket, keep in mind the preferences as well as the dietary restrictions of the recipient, if any. In case you cannot figure out the meat preferences of the recipient, it is safe to include a gourmet assortment of meats.
Meat Gift Basket Ideas: How to Arrange
Choose a gift basket which is durable so that it can conveniently be used to transport the meats to a park, if the recipient desires.
While arranging the basket with treats, fill it with shredded paper at the bottom which is easily available in the market. Plastic Easter-style grass can also be laid as the base.
There are several varieties of meats to choose from. Fill it with premium meats such as Fire-roasted Salmon Pate, artisan dry-cured salami, Pacific Northwest Smoked Salmon, roasted turkey, sliced Italian Salami, honey ham slices and more.
Wine lends a romantic feel to any gift basket and they go together well with meats too. Add a bottle of white or red wine. Other complementing snacks such as bagel chips, gourmet crackers and bread sticks can be added.
Add serving necessities to the basket including wooden board, a specialty meat knife and a corkscrew for the wine bottle.
Tips for Making Meat Gift Basket
If you making a meat gift basket for a picnic purpose, keep space for plates, napkins and silverware.
If you choose meats which are perishable, seal them and store them in the refrigerator until the last minute. Assemble the meat in the basket before you have to give it away else keep your basket cold. Let the recipient also know that the meats must be kept in the refrigerator as soon as the meat gift basket is received. Alternatively, you may add canned or preserved meat that do not ruin and need refrigeration until opened.
image credits : giftbasketsplaza.com
Meat Gift Basket Ideas