Whirlpool Microwave Review

10 Jun 2011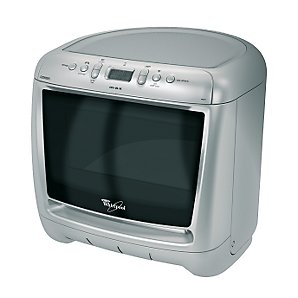 Whirlpool Microwave Review provides you with authentic microwave oven information and details of Whirlpool micro ovens that may help you in making the final choice about the best microwave oven you need.
Whirlpool Microwave Oven Features
Jet Defrost System
Whirlpool microwave oven models like Linear AMW510, Fusion AMW575, Essence AMW518 Perfect Chef, and Max 28 offer Jet Defrost system, which initiates defrosting process 7 times faster than other microwave ovens in the same category.
Crisp Systems
This feature supports healthy cooking process with almost zero oil and the least risk of burning food. The 3-heat sources in the Whirlpool microwave ovens is the secret for crisp baking and usage of less oil.
CleanRelease Non-Stick Interior Coating
Whirlpool Models, such as the Jet Saveur VT265, VT266, and Family Chef FT339, feature non-stick interior coating inside the ovens. This is the reason cleaning is a non-messy and simple task for Whirlpool Microwave ovens,
6th Sense Steam and Sensor Cooking
Whirlpool microwave ovens come with an built-in sensor technology, which can detect the humidity level to auto-adjust the temperature and time required to complete the cooking process with best energy efficiency.
Jet Stream Forced Air Cooking
Models like Jet Chef JT358 and JT359, Essence Perfect Chef AMW578 and AMW588 feature "forced convection" cooking process. These ovens  offer the dual benefits of microwave and convection ovens, and promote cooking  as an easier process.
3D Emission System
This is a unique feature of Whirlpool microwave ovens that sets microwave energy  circulating consistently within the cooking crater for even and faster cooking.
Apart from these excellent technological features, Whirlpool Microwave Oven also offers utility features like child lock, staged cooking, memory function, warm hold cycle, touch control system etc.
Price Range
Whirlpool microwave ovens fall into three broad categories - countertop, range–hood, and a combination model of convection and grill. Whirlpool countertop type microwaves cost around $150 to $300, over-the-range models are priced in between $300 and $500, and combination range ovens cost-range starts from $350.
Disadvantages Of Whirpool Microwave
There is no specific disadvantage of these ovens. However, spare parts are quite expensive but all replaced spare parts are also covered in the manufacturer's warranty.
Reviewer's Take
The Whirlpool Microwaves come with features designed specifically to fit your kitchen and your tastes. These unique features are helping Whirlpool microwaves carve a unique place for themselves.
Image credit: connect.in.com 
Whirlpool Microwave Review