How To Buy Cheese Sausage

21 Mar 2011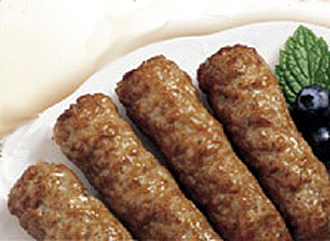 Cheese sausage, also known as "Casalsiccia" is a special sausage stuffed with cheese along with other regular ingredients. It is relished for its delicious taste and usage in various recipes. The basis ingredient of sausage is ground meat which is garnished with salt, herbs, and spices. It is one of the important modes of food preservation. There are various means to preserve it, viz. curing, smoking or drying. The different process brings a specific flavor to the final preparation.
Usage of intestine in making the casing is the traditional method of preparing sausage. But now-a-days, synthetic material is also used for this purpose. Another interesting method of making sausage is the cooking of sausage during the processing period and thereafter removal of the casing. In this way, different methods are adopted to prepare a delicious sausage which finally turns into a lip smacking food. Cheese sausage is popular in many countries but it forms a great breakfast in North American. If you are one among those who want to buy cheese sausage for a regular breakfast or just a snacking food, go through the following guide. It would prove helpful to you in buying cheese sausage.
It's always advisable to visit an authentic store to buy cheese sausage. You will not get only good quality at such stores but also tons of varieties You will get an option to select the one from various available cheese sausages. If you are a novice in shopping of cheese sausage, the dairy staff at such stores will help you in selecting the one as per your choice.
When you visit a grocery store you will find cheese sausage wrapped in synthetic plastic casing or a protein casing. Each sausage will have different flavours, as they were prepared through different process. So, you are left with two options, the first being that you buy the one that you enjoy eating while the second option is every time you try a new variety.
It is also sold in pounds and is available without casing. In North America, you will find regularly sliced sausage in the form of patties or cooked into scrambled eggs. They are ready to eat varieties. If you want to have such cheese sausage, specifically mention this to the shopkeeper to avoid any confusion.
If you want to give a gift of cheese sausage to somebody, you can purchase gift baskets and gift boxes of cheese sausage with varied combinations. They are available online as well as in cheese stores. Pick the combination you like and then place the order.
These were some important tips which are worth remembering while buying cheese sausage.
Image Credit: bull-ish.com
How To Buy Cheese Sausage