How To Buy Mozzarella Cheese
18 Mar 2011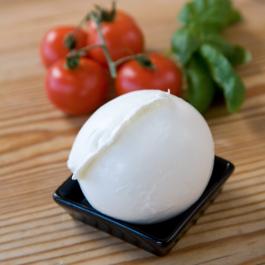 You are wondering how to buy Mozzarella cheese? Here's are a few suggestions. Mozzarre mean 'to cut' in Italian and mozzarella cheese is made by spinning and cutting as other cheeses. Traditionally it is made from the buffalo milk in Italy.Mozzarella is a white, semi soft-cheese with high moisture content traditionally served on the day it is made.
How to buy Mozzarella
There are several kinds of mozzarella cheese to choose from if you are planning to buy the cheese. Mozarella is made from water-buffalo milk mostly; cow's milk  and smoked mozzarella or the kind made from skimmed milk is also available for consumption. When buying Mozarella you may want to check the moisture content in it, the salt content and the shelf life on it to get the best fresh and original Mozzarella.
Different gourmet Mozzarella cheese may be available and might also be more expensive since they may be vegan, all natural, gluten free, Kosher parve, casein free and non GMO based.
Sold as shredded, loaf, diced, balls and sliced forms are available with different moisture content. Refer to the USDA moisture requirements for more information.
Where to buy?
Thus pasta filata can be brought online from igourmet.com and then stored. Authentic Mozzarella di Bufala from Italy, Smoked Mozzarella Cheese, Bocconcini, Tenerella, Star Valley Mozzarella are some of the varieties available.
There are several such online stores selling both authentic as well as local mozzarella cheese. Make sure to check the authenticity and consumer reviews of the store before buying Mozzarella cheese online. Mozzarella without preservatives bought fresh might taste better and may cost anywhere between $5.89/lb to 7$/lb from Golden Age pizza, NY.
Smoked Provolone can be got for $6.29-10$/lb. If you are interested in getting the Mozarella stretching curd used for fresh Caprese salad, Mozzarella pizza, balls cuch as ovolini with no salt added they can be ordered online from Gormet cheese stores. They cost around $4.59/lb
For those buying bulk order of Mozzarella and other cheese alibaba.com has an active information portal. 8 oz cheese can be bought at $32.75. Mozzarella cheese ball 1 lb can be bought for $36.75.  Shredded Mozzarella in bags can be bought for sprinkling on salads and pizza.
So buy Mozarella cheese and enjoy the gourmet delights this tasty cheese provides in dishes.
Image Credit: laverstokepark.co.uk
How To Buy Mozzarella Cheese