How To Buy Goat Cheese?
16 Mar 2011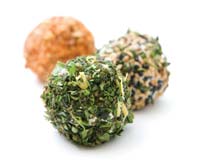 Goat cheese is slowly and steadily gaining a significant place in the world of gourmands. Hence, making it essential for every foodie to know how to buy goat cheese. If you are still new to this delicate awesomness, then read on and know more....
Goat cheese is a rich and creamy white cheese that is usually used to prepared a variety of appetizers that never fail to tingle your taste buds for the rest of the courses of food, making you feel hungry enough by creating some space in your tummy and pacifying the hunger chemicals.
Buying Goat Cheese
Buying goat cheese appetizers is one of the easiest choices that you can make for one of the most amazing food in the world, which is distinctly identified for their white color and the tangible flavor that they develop on ripening. They come in various ranges like a creamy, mild spread to pungent and crumbling discs.
Some of the points to be thought of while buying goat cheese for making goat cheese appetizers will include that they comes in different shapes like cone, disc, wheel, button or crottin. Choose one as per your appetizer menu plan.
The second criteria for choosing goat cheese for making appetizers will include, a number of textures ranging from creamy to crumbly to semi-firm, which will decide how you plan your appetizer to be.  They are sold in three stages and can choose depending on being fresh, aged or marinated in olive oil or red wine. They may come readily coated in lavender, black pepper, edible flowers and even chocolate, but you can choose your flavor for chocolate will make a dessert, or buy them without any flavor and make your own.
Some of the best goat cheese appetizers will include herb and garlic goat cheese dip and easy goat cheese appetizers like sesame thyme, fresh herb, Moroccan and spicy Pecan.
Image credits: wholefoodsmarket.com
How To Buy Goat Cheese?