How To Purchase Gourmet Baking Ingredients

15 Mar 2011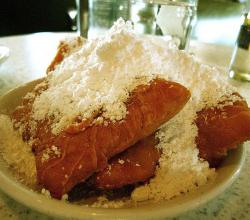 Gourmet baking brings to mind foodstuff made from premium-quality ingredients and prepared with consideration to both taste and manifestation. Baked goods, cakes and desserts are no exception. Discovering the appropriate ingredients for your recipes signifies the first step to producing gourmet desserts and baked goods.
Online!
There is absolutely nothing that you cannot find online these days.  Use a search engine like Google or Yahoo! To find whatever baking ingredients you are looking for. The great thing about shopping online is that no matter how rare the ingredient is or difficult to find, it will definitely be available online.  You can buy in small or bulk quantities. Do a little research before you decide which store to buy from. Read reviews and check out ratings.
Specialty Food Supermarket
Specialty food supermarkets are akin to normal grocery stores, except they cater to the niche crowd. The kinds of people who shop here are foodies and cook for pleasure and not just for daily nourishment. You can find high end products here for baking, all sorts of seasonings and spices. Specialty food supermarkets can be "organic", "natural" or "gourmet."  Try out igourmet.com  Of course needless to say the goods here will be a little more expensive than what you would find in a normal supermarket.
Gourmet Food Store
A Gourmet Food Store is an epicure's heaven. It is a fabulous place for those who love great food and high quality ingredients. They often have an excellent selection of  international specialty foods such as caviar, cheese, foie gras and pate, gourmet chocolates, oils and vinegars, smoked salmon, specialty meats, teas, fresh truffles, and many other cooking delights.
Super Markets
Some of the better supermarkets offer gourmet foods along with pantry staples. Regional and national grocery chains like Whole Foods, Publix, Kroger, and Safeway have started carrying a lot of gourmet foods. They carry high end and organic items as well and have a pretty decent selection of everything.
Local Produce and Farmers' Markets
This is one resource that can simply not be looked over. For the freshest and ripest of ingredients, always pick out local produce and  from farmers' markets. You will be consuming healthier produce as well as supporting your local farmers and fishermen. This is truly experiencing food in its finest form. Spend sometime of your weekend at the local farmers' market. Scour the local and community news for places and times.
Hope these ideas will help  you in purchasing gourmet baking ingredients with simpler plan. For a foodie baking with the best quality ingredients is an absolute must, it was what makes baking so much fun.
Image credit - ifood.tv
How To Purchase Gourmet Baking Ingredients