How To Buy Beechers Cheese
11 Mar 2011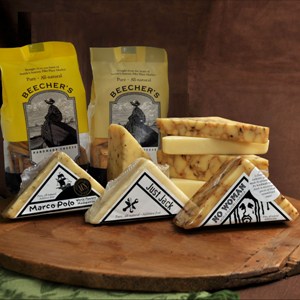 If you are looking to buy pure artisan cheese made from unadulterated cow's milk with no artificial flavors or additives then buy Beechers Cheese. Beechers Cheese is exclusively made in their Seattle location in Pike Market Place.
A dream comes true for Kurt Beecher Dammeier, the founder of Beechers cheese who established his business in 2002. He roped in veteran cheese maker Brad Sinko and together they started their cheese making factory right from scratch.
From getting the best unadulterated cow's milk without any growth hormone, to making cheese pure without additives, they have established a credible brand name and loyal customers all over the world.
How to buy Beechers Cheese
Their online cheese shop will help you choose their best hand made, pure cheese from several varieties. A brief description accompanying the picture of the cheese lets you choose their best products and the quantity too that can be shipped anywhere.
They also sell the traditional Mac and cheese with the logo 'the world's best Mac and Cheese'. Choose from a wide assortment of artisan cheeses from the Northwest and California. Browse Beecher's cheese mercantile filled with cheese related books, knives and other items selected to help you serve and enjoy cheese at their cheese shop and online. You can select from the complete line of Beecher's cheeses, as well as their broad assortment of other Northwest artisan cheese.
In addition to buying Beechers cheese one can also browse their online store for information on cheese making 101, wine-cheese pairings, techniques of serving cheese, storing and handling cheese.
Buying Beechers cheese gives you the privilege of tasting their exclusively made artisan cheese, that is as authentic as it can get.
Image Credit: Beechershandmadecheese
How To Buy Beechers Cheese