5 Awesome Gift Ideas For Beer Lovers

10 Jan 2011
Are you looking for the perfect gift for your friends who enjoy great beers? Here are some awesome gift ideas for beer lovers. 
I am sure these beer lovers' gift ideas will bring joy on the recipients face. 
Tasteful: This is a perfect idea gift idea for beer lovers, who enjoy trying new brands of beer and who want new tasting experiences of beer. 
This beer tasting and hop appreciation kit will help the beer lovers to develop their senses. These kits also include beer appreciation guides which will guide the gift recipient through the regions and origin of the ingredients used in the preparation of the beer. 
Quick & Convenient: Beer lovers will be delighted with this beer gift.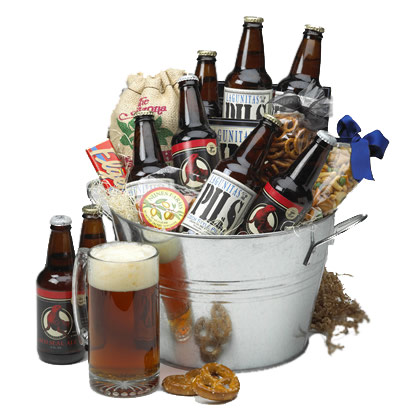 You can send beer in a bucket. In this gift you can focus on unique items like a collection of rare microbrews or ordering a basket/bucket from a specific brewery. 
Keep 'Em Comin':  This is a great gift idea for beer lovers. With the help of  the internet you can find different services which will ship the beer across the country. Probably there will be a monthly subscription for these services and the recipient gets a case of different micro-brewed beers delivered each month.
The Brew Master: This beer lovers' gift idea is for someone who has a solid knowledge of what good beer is, possibly it is the time for such persons to try brewing their own beer.
Beer brewing kits will have all the ingredients required to make a great beer on the first attempt. You can gift a brewing kit which has a variety that he or she particularly enjoys like Scottish ale, American lager, Irish stout, British nut brown, Belgian dark, something fruity and many more. If the recipient wants to continue developing and advancing his brewing skills, the kit provides information and resources to make that happen. 
A Lasting Legacy: This is a wonderful gift idea for beer lovers, this gift is for a friend who likes to entertain guests with the best beers right in his own man-castle. Present a personalized bar sign for the recipients home bar. 
You can buy this gift online from a quality vendor, who will provide the personalization effects like photo, logo, slogan, etc to the home bar. These personalized signs can provide the look and feel of a pub or bar.
I am sure the above list will help you  impress your beer loveing friends with a great gift. 
Image courtesy:   www.basketswithanattitude.com
5 Awesome Gift Ideas For Beer Lovers