How To Buy Good Champagne Easily
30 Dec 2010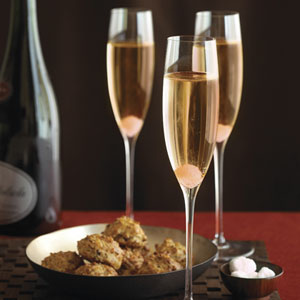 Welcome this new year, with a gala party; but before that you should know how to buy good champagne easily, as champagne is most essential to celebrate this occasion. Buying good champagne is not critical, when you already have some buying experience. However, for the beginners it might be little difficult to choose the best ones. Here are few useful tips, which will come handy for buying good champagne for any occasion.
Select The Authentic Products
Champagnes are originally produced in France. The products from France have the most authentic taste and flavor. So, look for the bottles which have been imported directly from France. You can completely rely on the quality of these authentic champagnes.
Learn About The Variations
Champagnes have different types of flavors and tastes. Some are sweeter than the others, where as some are more aromatic than others. As you learn about the variations, you become more expert on choosing the right brand. Actually, it depends on your liking, so unless you learn about them, it will not become possible to make out a favorite.
Get Expert's Suggestion
If you are quite unsure about which one to buy, you should take suggestions from the experts on this respect. There might be someone in your family or among your friends, who is more knowledgeable in this issue. Otherwise, you can also search through internet about the individual brand to learn related information on taste or flavor.
Fix Your Budget
You will get champagnes in a variety of price range. The finest champagnes are normally on the higher side, whereas there are brands available in reasonable price also. If you are buying champagne only for your family or fewer friends, then you can go for the expensive brands. But, for large number of guests, it is better to stick to the economic variations, unless your pocket supports the cost.
Consider All The Factors
While deciding upon the brand, you should consider major factors like origin, flavor or price. Depending on these factors, you should select the one that suits you best, after calculating all your limitations. However, never go for the cheapest bottle on the rack, as this might destroy the whole celebration mood.
Image Courtesy: myrecipes.com, theworldwidewine.com 
How To Buy Good Champagne Easily