Top 10 Gifts for An Aspiring Chef – Part 1
18 Dec 2010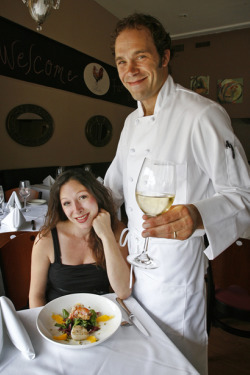 Top 10 Gifts for An Aspiring Chef ! Hmm! There was this one time when one of my friends had a hot boyfriend who loved to took. As much as he loved to cook for her, he also loved to show off his cooking skills to the world. On one of the many Sunday afternoons that I have been their home, I saw him wearing an apron that said, 'KISS THE COOK'. He looked so adorable in it and I couldn't help but think, how it must be to kiss the dude. Ok, by policy, I stay away from the boyfriends of my girlfriends, no matter how much kissalicious they appear. That apron has turned out to be the inspiration for this blog; gifting ideas for an aspiring chef.
This going to be a two part series and here is Part 1
10.A Portable Tabletop Wine Cooler
This is one of the classiest gifting ideas for any chef. A tabletop model would start from USD 99. Gourmet cooking uses a lot of cooking wine, so this gift will be very, very appealing to your wannabe gourmet chef.
9.A Crème Brulee Torch
In my opinion, the crème brulee torch is the baddest and the most visually appealing kitchen tool. The machine spits fire for heaven's sake and obviously the boys love it. They think by holding the torch in hand, it some how adds to the machismo in their appeal. Whatever! As a woman, I think that it helps you make the best crème brulees. Simple.
8. A Gastromic Tour to Michelin-starred Restaurants
This might you cost a bit but if you think it is worth it, you should definitely do this. All amateur chefs would love to explore the Michelin-starred restaurants and find out for themselves as how they earned their stars. I would recommend Heston Blumenthal's The Fat Duck to be on your list.
7. A First Aid Kit
If you have spent much time in the kitchen, then you will know why this is very important. Even the best of the chefs will have a bad day or two where they will almost chop a chunk off their fingers. A first aid kit will be much appreciated. This will be one of the most useful ideas in my list of gifting ideas.
6. A Set of Global Knives
A friend of mine who is chef, swears by the Global knives. He told me that he would have been a very happy man, if someone had gifted him a set of Global knives when he was starting out. Global knives are Japan made. The Guardian stated that only a Global knife can slide through a cabbage like butter.
If you think that these ideas were hot, then wait till you read PART 2. ;)
Image Courtesy: thelatestdish.wordpress.com
Top 10 Gifts For An Aspiring Chef – Part 1