How To Create Salami And Cheese Gift Baskets
16 Dec 2010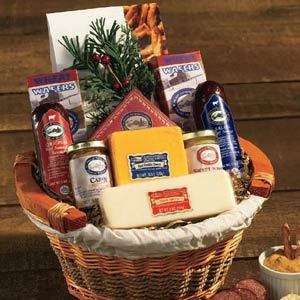 Having some knowledge on how to create salami and cheese gift baskets can come handy when it comes to create a personalized gift basket for an occasion. There are several types of salami as well as cheese, available in the market. You can easily make a choice to pick up certain items and then arrange them in baskets. So, get into your shoes to start with the project of creating salami and cheese gift baskets.
Different people have different preferences on cheeses and salamis. It would be better, if you can acquire this information from the recipient before starting with your project. This way, you can buy only the selected items to prepare the basket and even the recipient would also enjoy every part of it. In case, there is no way to get the information; then it is better to stick to the common and popular varieties, rather than experimenting with unique choices.
Once you list out the things that you are going to buy, it becomes much easier. Pick up the items according to your list from the grocery shop.
Next, visit the local craft shop to buy the right baskets. Here also you will get a variety of choices to select from. However, nothing can match the sophistication of cane baskets. Go for the right size, which will be perfectly fit for your items. Also, buy some paper stuffing, glue, ribbons, glitters etc for added decorations.
Once you get back home, sit with the items to arrange the baskets. First fill the bottom of the basket with shredded papers and then gradually arrange the salami and cheese items on the basket. Use decorative items like glitter or ribbons to add some beautiful touch.
Don't forget to wrap the gift with transparent cellophane paper. Gather all the ends on top and finally tie with a ribbon. Attach a personal message in a beautiful hand-decorated tag to make the gift more interesting. 
So create salami and cheese gift baskets now to make your friends happy.
Image Courtesy: thisnext.com
How To Create Salami And Cheese Gift Baskets