Top 5 Online Cheese Stores

14 Dec 2010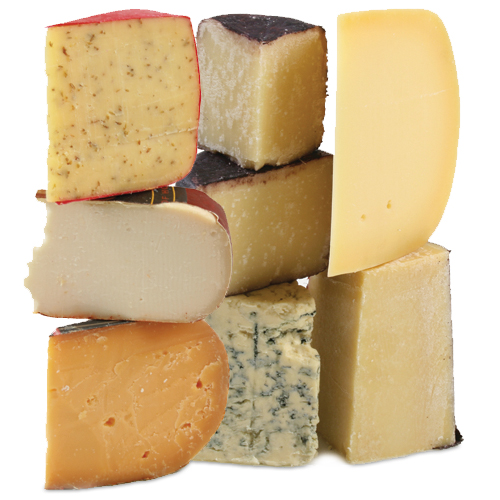 A platter of cheese along with some chilled wine is a befitting way to end a classy dinner. However, it is imperative to check the top 5 online cheese stores while trying to purchase the very best of cheeses. Gourmet or artisan cheeses are often not available locally and you do have to resort to buying cheese online especially when you are not the kind to compromise on quality.
Sending an assortment of cheese along with some excellent wine is a wonderful way to enliven your ties during the festive season. A properly packed cheese basket which contains just the right quantity can be obtained only by buying cheese online. You will actually be spoilt for choice when you try to find out the right store for you on the Internet. Statistics reveal that it is these websites which enjoy the highest search engine ratings on an average. And of course this reflects the fact that a lot of people prefer buying cheese online instead of picking it up at the local supermarket. Let us now have a look at the top 5 online cheese stores that are patronized by most connoisseurs of the cheese.
Igourmet - Interested in gourmet cheese, preferably the world's best? You will get it all at the website of igourmet. The online shop started functioning in 1999 and there has been no looking back since. You simply do not have to look beyond its staggering 800 different varieties when it comes to buying cheese online.

 
Fromages.com - Cheese paired with a suitable wine from France is what this site specializes in. You are likely to be bowled over by their staggering collection, especially if you happen to be a Francophile. Categorized by milk types or by chef's recommendation, this serves as one of the best stores when it comes to buying cheese online.  

     
Cowgirl Creamery - This online store highlights the cheese of the month regularly, and it is possible to take your pick from a small but distinctive collection that the website offers.

 
Murray's Cheese Shop - One of the best known establishments that has been around since 1947, the Murray's opened their online store in 1997. You can be assured of obtaining even the rarest of the rare products here. Most individuals do not think beyond Murray's when it comes to buying cheese online.

 
The Cheese Store of Beverly Hills - A Beverly Hills store that is available online as well. This shop has a unique collection of gourmet cheeses which can be bought along with exotic food items as well. The crowd from Los Angeles does not bother to venture out of their known locality even when it comes to buying cheese online especially when this online store can offer them exactly what they want and much more.  
Image Courtesy: igourmet.com
Top 5 Online Cheese Stores