Ideas For Hanukkah Food Gifts - Kosher Wine Gift Baskets
1 Dec 2010
As Hanukkah commences, we start thinking about gifting unique stuff to our near ones to please and surprise them. While the first few things that come to our minds are either chocolate baskets or cookie baskets, why not try something new this year? Why not go for a new idea for Hanukkah food gifts - Kosher Wine Gift Baskets? Wine baskets bring in taste, health and also a touch of class and exclusivity. This is a perfect gifting idea, especially if you want to impress someone this Hanukkah. Therefore, arrange for a beautiful kosher wine gift basket – and if ideas are what you want, here are a few: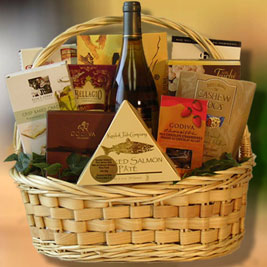 Red Wine Gift Basket:

For people who have a slight bend towards the mildly sweet taste of red wine, this is an ideal gift for them. The soul of this kosher wine gift basket is a bottle of Don Alfonso Chilean Cabernet Sauvignon Red Wine. To support this, the basket comes with a few kosher certified Brent & Sam's triple chocolate bliss cookies, House of Bauer Bavarian chocolate hazelnut meltaways, Imperial chocolate covered almonds and Ramapo Ridge Mountain Mixes salted cashews. A perfect gifting idea for the red wine lovers.
Triple Crown Wine Gift Basket:

If grandeur is what you like, then this kosher wine gift basket is for you. The gift basket consists of three wine bottles - Cabernet Merlot Red Wine, Shiraz Red Wine and Chardonnay White Wine. Top these with complements like Ghirardelli chocolate, fine hazelnut chocolates from Ferrero Rocher, Belgian chocolate shells from Guylian, smooth petite mints from Guittard, double chocolate chip pecan cookies from David's Cookies, dark chocolate Bavarian mints from House of Bauer, vanilla wafers, B&B mega sesame sticks and Fastachi Harvest Nut Mix. You can add other things as per your choice as well, but ensure that whatever you add in the basket is kosher certified – for that's the defining factor of Hanukkah.
Portuguese Red Wine & Truffles Basket:

If simplicity is what you want, go for this basket. The hearty Casa da Corca Portuguese red wine that comes in a painted wood wine box, together with a delicate collection of handmade truffles is truly impressive.
Assorted Kosher Wine Basket:

This is the ultimate kosher wine gift basket that contains the five best kosher wines perfectly suited for Hanukkah. Order for a deep square wicker basket and fill it with a bottle of Segal's Single Vineyard Cabernet Sauvignon, a bottle of Château De La Tour Clos Vougeot, a bottle of Baron Herzog White Zinfandel, a bottle of Teal Lake Chardonnay and bottle of Borgo Reale Chianti. The touch of elegance and sophistication that this kosher wine gift basket brings along is rarely to be matched by any.
Thus, order the right kind of kosher wine basket that suits your preference and convenience and stun everyone on the occasion of Hanukkah. Indeed, this idea for Hanukkah food gifts - kosher wine gift baskets – reaches the zenith of sophistication and elegance.
Photo Courtesy: thesweetbasket.com
Ideas For Hanukkah Food Gifts - Kosher Wine Gift Baskets