How to send a Smithfield ham as a gift?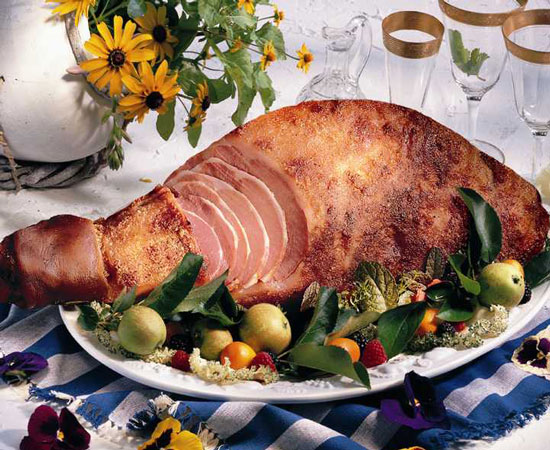 Christmas and Thanksgiving is just around the corner and the excitement is building up. For this gifting season, why don't you send your closest relatives a choice piece of country ham, famously known as the Smithfield ham. Are you wondering what the Smithfield ham is or how to send a Smithfield ham as a gift, I can help you. I am sure you will love the idea towards the end of the blog especially once I tell you why the Smithfield ham is so special!
What is the Smithfield ham?
The Smithfield ham is a specific type of country ham, which was first created in the town of Smithfield in Isle of Wight County in the Hampton Roads region of Virginia, USA.  A genuine Smithfield ham is described as that choice meat that is cut from the carcasses of peanut-fed hogs, which are raised in the peanut-belt of the Commonwealth of Virginia or the State of North Carolina. They are in turn cured, treated, smoked, and processed in the town of Smithfield. Today, the Smithfield farms smoke their hams with oak, apple woods and hickory and cure it and then age it for close to a year. They are cooked and packaged, such that when you buy it or decide to gift the Smithfield ham, it arrives to the kitchen table, fresh and extremely delicious! Can't wait to buy one for your self now, can you? But remember, it is the giving season! Share some joy and hams too! :-)!
How to send a Smithfield ham as a gift?
First, examine the company's catalog and determine which Smithfield ham you are interested in buying. Spend some time and choose the ham you want to gift. Here are the types of Smithfield hams available to you.

Genuine Smithfield hams – This is a long cut ham with a pungent flavor and high salt content. They are dry salt-cured, slowly hickory smoked, and aged for six months to a year. Slice them thin and then cook them!! Simply Yumm!  You can go for the Cooked or Un cooked Genuine Smithfield ham and these also come boneless or with the bone in. Another option is the Deli Trimmed Genuine Smithfield Ham.
The Charles Henry Gray "party ham", sliced across the top and seasoned with a secret family recipe is another awesome pick. This Smithfield ham simply needs to be heated and then it is ready to satisfy your already drooling family!  
Jordan's Wine Glazed Virginia Ham which is prepared in the same manner as the Genuine Smithfield Ham. The difference is that, once brown sugar is added to the ham, the ham is well-sauced with a wine glaze and then baked. I love this ham because of its exquisite flavors and often choose it for gifting.
Another interesting choice is the Smithfield & Williamsburg Premium Country Hams which have a milder flavor and is short cut. This hickory smoked ham is also dry salt-cured, but has less salt content as the curing process is shorter and it is aged for only close to 3 to 6 months.
You can also pick up the Smithfield Lean Generation Pork which is 97% fat free or the Smithfield Premium Pork which is very tender smoked ham that has a very mild flavor and low salt content.

Now, set the date when the ham has to be dispatched and specify the address. During season times, like Christmas holidays you can request for a second day or overnight delivery, otherwise normally, it will take three working days for the yummy package to reach the specified location.
You can order through the Internet, telephone, fax or regular mail.

You must have a credit card to order by internet. Now fill the online form and place the order by sending it to the Smithfield Farm's email address. When ordering by the Internet, ensure to print out a copy of the order form so that you have your order details with you
To order by telephone call the companies toll free number which you will get from their website. 
When faxing, send the order form to their fax number (757-357-0050).
In case you are mailing your order form, then send your payment information and delivery instructions with the form .The Smithfield Farms accept Visa, MasterCard, American Express or Discover for orders.

To pay by personal check, you must phone, mail or fax your order.
Image Credit: Smithfield hams.com
How To Send A Smithfield Ham As A Gift?