How to Pick an Australian Wine?
24 Apr 2010
Most of us who have been to Australia come back with a very basic question on our minds: How to pick and Australian Wine? We may know a lot of the beaches, bazaars and eateries that Australia has to offer, but "How to pick an Australian wine" is something we all would like to learn, right?
Well, not to worry anymore. Here is a checklist of things to do in Australia, while you are looking for that "just right" bottle of Australian wine. Try this the next time you visit Australia, you will never go wrong in your judgement: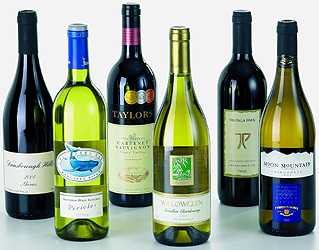 1) Australia's Unique Flavour 'Shiraz': Start with this most popular variety of Australian red wine, which arrived in Australia in 1832 and is made with Shiraz grapes. This type of grapes grow better in Australia than anywhere else in the world. Since there are two different varieties of the Shiraz grapes growing in the warm and cold regions of Australia, the winemakers try to make the most of it by mixing it with either Cabernet Sauvignon grapes (in the cold region) or Grenache or Mourvedre grapes (in the warm region).
2) Chardonnay: The Baby Among Australian Wines: The baby among Australian wines: The white wines of Australia are a relatively new flavor and even among these, Chardonnay (made popular in many Hollywood movies) is the youngest and the most popular. Chardonnay was introduced in Australia way back in the 1920s but it started becoming popular only around two decades ago. Other white wines famous in Australia are Chenin Blanc, Semillon, Sauvignon Blanc and Pinot Grigio.
3) Other Reds in the Australian Wine Bouquet: Apart from Shiraz, other red wines, which you should pay attention to are Cabernet Sauvignon, Barbera, Cabernet Franc, Grenache, etc.
4) Get A Taste Of The Stickies As Well: Among the dessert wines, the Australian winemakers are known for their "stickies", as the locals call them. This is because of the sticky consistency of the wines. Wines made from the Muscat, Reisling, Sauvignon Blanc varieties of grapes are included in the stickies.
5) Australian Wines From Different Regions: Although most of the wines in Australia are named on the basis of the grapes from which these are made, there are certain varieties that are region-specific and thus named. At present, Australia has as many as 60 wine regions with mostly located near cities like Perth, Brisbane, Adelaide, Melbourne and Sydney.

Now that you have familiarized yourself with the wines available in Australia, the next step is how to pick the right wine for yourself. Since tasting so many wines can be confusing and may render you drunk by the end of it, it is better to choose your type of wine first. You should, first of all, decide whether you want a red wine, white wine, desert wine or sparkling wine. By narrowing down your choice, you will have a lesser array to choose from, which will help you make a much better choice.
Exploring the Australian wines can be fun, especially because Australia has too much to offer in the wines. Don't stick to the popular varieties but experiment wherever you can. After all, when it comes to the Australian wines, only sky is the limit.
How To Pick An Australian Wine?