Le Cordon Bleu Peru Lima, Peru
3 May 2007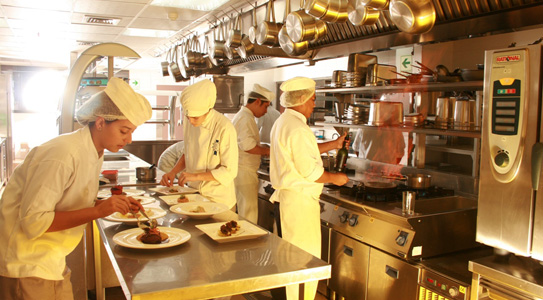 General Information
Private, coeducational, culinary institute. Urban campus. Founded in 1994. Accredited by Accrediting Commission of Career Schools and Colleges of Technology.
Program Information
Offered since 1994. Accredited by Council on Hotel, Restaurant and Institutional Education. Program calendar is divided into semesters. 18-month diploma in administration of hotels and restaurants. 2-year diploma in bar and cocktails. 2-year diploma in pastry. 2-year diploma in cuisine. 3-year diploma in alimentary industries. 3-year diploma in gastronomy and culinary arts. 4-year diploma in hotel and restaurant administration.
Areas of Study
Beverage management; culinary French; culinary skill development; international cuisine; kitchen management; nutrition; patisserie; sanitation; wines and spirits.
Facilities
12 classrooms; coffee shop; computer laboratory; 2 demonstration laboratories; 9 laboratories; lecture room; library; public restaurant; 6 teaching kitchens.
Student Profile
910 total: 710 full-time; 200 part-time. 570 are under 25 years old; 134 are between 25 and 44 years old; 6 are over 44 years old.
Faculty
92 total: 12 full-time; 80 part-time. Prominent faculty: Dr. Sixtilio Dalmau Castañon, Director; Sra. Patricia Dalmau de Galfré, Administrative Assistant; Chef Jaques Benoit, Culinary Director.
Special Programs
Practical opportunities.
Typical Expenses
Tuition: $18,700 per 3 years full-time, $2200 per 18 months part-time. Program-related fee includes $950 for uniforms, cutlery, books, and insurance (accidental).
Housing
Average off-campus housing cost per month: $200.
Application Information
Students may begin participation in March and August. Application deadline for fall is February 1. Application deadline for winter is June 1. Applicants must submit a formal application.
---------------------------------------------------------------------------------------------------------   
Contact
Fabiola Chac

Secretary

Gastronomy Direction

Le Cordon Bleu Peru

Av

Nunez de Balboa 530

Miraflores

Lima

Peru

Telephone: 51-1-2428222 Ext. 210

Fax: 51-1-2429209

E-mail: fchac@cordonbleuperu.edu.pe

World Wide Web: http://www.cordonbleuperu.edu.pe.
Image Courtesy: lecordonbleu
Le Cordon Bleu Peru Lima, Peru