Scottsdale Culinary Institute - Scottsdale Le Cordon Bleu Scottsdale, Arizona
30 Apr 2007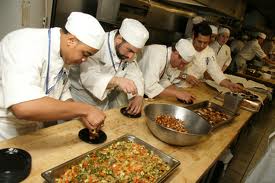 General Information
Private, coeducational, culinary institute. Suburban campus. Founded in 1986. Accredited by Accrediting Commission of Career Schools and Colleges of Technology.
Program Information
Offered since 1986. Accredited by American Culinary Federation Accrediting Commission. Program calendar is divided into six-week cycles. 15-month associate degree in Le Cordon Bleu Culinary Arts. 9-month certificate in Le Cordon Bleu Patisserie and Baking.
Program Affiliation
American Culinary Federation; American Institute of Wine & Food; Council on Hotel, Restaurant, and Institutional Education; International Association of Culinary Professionals; International Wine & Food Society; James Beard Foundation, Inc.; National Restaurant Association; Phoenix Restaurant Association; Women Chefs and Restaurateurs.
Areas of Study
Baking; beverage management; buffet catering; confectionery show pieces; controlling costs in food service; culinary skill development; food preparation; food purchasing; food service communication; food service math; garde-manger; international cuisine; introduction to food service; management and human resources; meal planning; meat cutting; meat fabrication; menu and facilities design; nutrition; nutrition and food service; patisserie; restaurant opportunities; sanitation; saucier; seafood processing; soup, stock, sauce, and starch production; wines and spirits.
Facilities
2 bake shops; 2 catering services; 5 classrooms; demonstration laboratory; 2 food production kitchens; garden; 2 gourmet dining rooms; learning resource center; 3 lecture rooms; library; 2 public restaurants; student lounge; 10 teaching kitchens; meatroom/butcher shop.
Faculty
40 total: 39 full-time; 1 part-time. 39 are culinary-certified teachers; 1 is a registered dietitian. Prominent faculty: Glenn Humphrey; Philip Sayre; Tracy Flowers; Mike Dudley. Faculty-student ratio: 1:16.
Special Programs
Paid externships, culinary competitions, participation in community and resort events.
Typical Expenses
Application fee: $95. Program-related fee includes $2200 for textbooks, knives, uniforms, utensil set, and food costs.
Financial Aid
Employment placement assistance is available. Employment opportunities within the program are available.
Housing
Average off-campus housing cost per month: $500.
Application Information
Students may begin participation in January, February, April, May, July, August, October, and November. Applications are accepted continuously. Applicants must submit a formal application, essay, academic transcripts, and have a high school diploma or GED.
---------------------------------------------------------------------------------------------------------
 Contact
Director of Admissions

Le Cordon Bleu

8100 East Camelback Road

Suite 1001

Scottsdale, AZ 85251

Telephone: 800-848-2433

Fax: 480-990-0351
 Image Courtesy: stephanieizard
Scottsdale Culinary Institute - Scottsdale Le Cordon Bleu Scottsdale, Arizona