Le Cordon Bleu Sydney Culinary Arts Institute
29 Apr 2007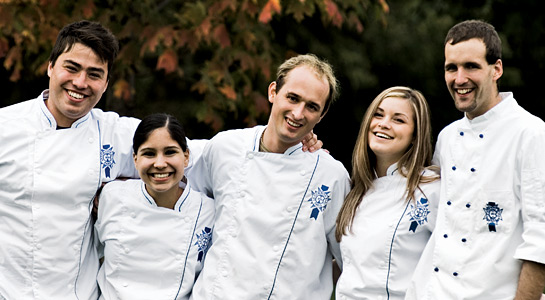 General Information
Private, coeducational, culinary institute. Suburban campus. Founded in 1996.
Program Information
Offered since 1996. Accredited by Training and Skills Commission South Australia. Program calendar is divided into quarters. 10-week certificate 1 in basic cuisine. 10-week certificate 1 in basic patisserie. 2-year diploma in professional culinary management. 22-week certificate II in intermediate cuisine. 22-week certificate II in intermediate patisserie. 36-week certificate lll in superior patisserie. 36-week certificate lll in superior cuisine.
Program Affiliation
Council on Hotel, Restaurant, and Institutional Education; International Association of Culinary Professionals; James Beard Foundation, Inc.
Areas of Study
Australian cuisine; baking; buffet catering; confectionery show pieces; controlling costs in food service; culinary French; culinary skill development; food preparation; food purchasing; food service math; French cuisine; garde-manger; international cuisine; kitchen management; management and human resources; meal planning; meat cutting; menu and facilities design; nutrition and food service; patisserie; sanitation; saucier; seafood processing; soup, stock, sauce, and starch production.
Facilities
Cafeteria; classroom; demonstration laboratory; garden; gourmet dining room; learning resource center; lecture room; library; public restaurant; snack shop; student lounge; teaching kitchen.
Student Profile
600 full-time. 350 are under 25 years old; 200 are between 25 and 44 years old; 50 are over 44 years old.
Faculty
15 total: 15 full-time. 8 are industry professionals; 10 are master chefs; 6 are master bakers; 12 are culinary-certified teachers. Prominent faculty: Lynley Houghton; Patrick Harris; Herve Boutin. Faculty-student ratio: 1:12.
Special Programs
Post graduate opportunities through Le Cordon Bleu in Adelaide, opportunity to mix and match course components in different world-wide locations.
Typical Expenses
Application fee: A$500. Tuition: A$7500–A$9500 per 10 weeks per certificates level course. Program-related fee includes A$1980 for uniforms and equipment tool kit.
Application Information
Students may begin participation in January, April, July, and October. Applications are accepted continuously. In 2005, 1000 applied; 600 were accepted. Applicants must submit a formal application and proof of English language proficiency (if English not first language), evidence of completion of year 11 in high school.
---------------------------------------------------------------------------------------------------------
Contact
Admissions Manager

Culinary Arts Program

Days Road

Regency Park

Australia

Telephone: 61-8-83463700

Fax: 61-8- 883463755

E-mail: australia@cordonbleu.edu

World Wide Web: http://www.lecordonbleu.com.au.
Image Courtesy: cordonbleu
Le Cordon Bleu Sydney Culinary Arts Institute