Le Cordon Bleu Australia
29 Apr 2007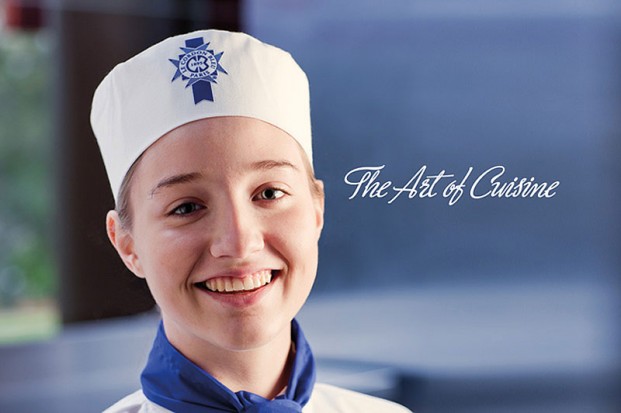 General Information
Private, coeducational, four-year college. Suburban campus. Founded in 1998.
Program Information
Offered since 1998. Program calendar is divided into semesters. 18-month master's degree in gastronomy. 2-year advanced diploma in restaurant and catering management. 2-year diploma in professional culinary management. 2-year master's degree in International hospitality and restaurant management. 2.5-year bachelor's degree in restaurant and catering management. 9-month certificate in commercial cooking. 9-month certificate in pastry.
Program Affiliation
American Culinary Federation; American Institute of Wine & Food; Confrerie de la Chaine des Rotisseurs; Council on Hotel, Restaurant, and Institutional Education; International Association of Culinary Professionals; James Beard Foundation, Inc.
Areas of Study
Accounting; beverage management; business plan development; controlling costs in food service; culinary skill development; finance; food and wine philosophy; food preparation; food purchasing; human resources; information technology; international cuisine; kitchen management; legal aspects of food service management; management and human resources; marketing; menu and facilities design; nutrition; restaurant opportunities; sanitation; soup, stock, sauce, and starch production; wines and spirits.
Facilities
Bakery; cafeteria; classroom; coffee shop; computer laboratory; demonstration laboratory; garden; gourmet dining room; learning resource center; lecture room; library; public restaurant; student lounge; auditorium; butchery; winery; food science laboratory.
Student Profile
520 total: 500 full-time; 20 part-time.
Faculty
40 total: 40 full-time. 40 are industry professionals. Prominent faculty: Paul Reynolds; Stan Szczypiorski; Brian Lawes. Faculty-student ratio: 1:15.
Special Programs
1-year paid internship for bachelor and advanced diploma programs, 6 month paid internship for diploma program.
Typical Expenses
Application fee: A$500. Tuition: A$59,400 per 2-5 years-bachelor. Tuition: A$39,600 per 2 years-advanced diploma, A$55,000 for bachelor; A$37,000 for advanced diploma; A$20,000 for masters degree; A$24,000 for MBA. Program-related fee includes A$1980 for professional culinary tool kit.
Financial Aid
In 2005, 25 scholarships were awarded (average award was A$10,000). Program-specific awards include required paid internship within Australia (up to 1 year). Employment opportunities within the program are available.
Housing
Apartment-style housing available. Average on-campus housing cost per month: A$950. Average off-campus housing cost per month: A$800.
Application Information
Students may begin participation in January and July. Application deadline for January/February intake is November 30. Application deadline for July intake is May 31. Applicants must submit a formal application, letters of reference, 2 passport photos, evidence of English fluency (if English not first language), evidence of satisfactory completion of year 12 or equivalent.
Contact
Nina Lucas

Manager

Client Services

Days Road

Regency Park

SA

Australia

Telephone: 61-8-83463700

Fax: 61-8-83463755

E-mail: australia@cordonbleu.edu

World Wide Web: http://www.lecordonbleu.com.au.
Image Courtesy: asiancorrespondent
Le Cordon Bleu Australia