Cooking Recipes Specifically Meant For Young Cooks

23 Dec 2010
Cooking with young cook - yes, getting your kids to the kitchen means lot of fun time for your kids during the holiday season. To liven up the kitchen for your kids you would need some cooking recipes specifically meant for young cooks, after all they too want to try their hands on making their favorite recipes which they can proudly claim as their dish. These cooking recipes for children are selected by keeping in mind children's involvement and taste. They should be easily prepared with parent's guidance and above all the dish should be pleasing for the children to eat. Check out some great recipe ideas for young cook.                                                           
Banana Cream Pie
A recipe simply made for the young ones. It is easy to make and delicious to look at and eat, so much so that the young cooks will enjoy the whole phase of preparation to eating their share of pie.
Barbeque Hotdogs
An easy cooking recipe for children, just bring in the hot dogs and give them cheese and veggies, let them make their own BBQ hotdog and enjoy eating.
Berry Orange Sorbet
This is an extremely kid friendly recipe as there is no heat involved. A sweet dish like this one is loved by children and healthy too. Get you kid to wash and puree the fruits and strain the juice. Let them pour in an ice tray for freezing but you will have to do the final job of smoothing the berry orange ice cubes to form sorbet.
Cheesy Scrambled Egg
Let your young cook get a kick of cheesy scrambled egg. Its so easy to prepare almost like a child's play but make sure you guide them while they scramble the egg on the stove top.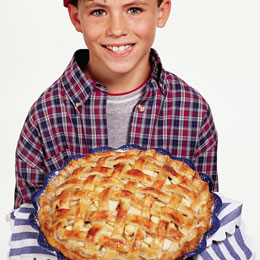 Classic Apple Pie

During the festive season, the best cooking recipe for children is a classic apple pie. While your young cook helps you with the recipe, you can teach him the health benefits of eating apple and also show him the creativity of making a crust. He will enjoy helping you with everything.
Blueberry Pancakes
Blueberry pancakes are a big hit with children so get your young cook to prepare his favorite dish. Let your kid griddle some perfect pancakes.
Marshmallow Snowman
How about some craft in the kitchen? Bring in the cake decorating gel and allow kids to decorate them as they wish to. This would be an ultimate cooking recipe for children to enjoy.
Monkey Bread
This bread is every child's favorite, so why not bake a monkey bread with the help of young cook and later enjoy eating like a monkey too.
Bagels
Bake bagels with your kids. Show them how to shape up a ball of dough perfectly and make a hole in the ball, it will be fun for them to poke their little finger to prepare the bagels for boiling and baking. It is probably the most fun filled cooking recipe for children.                  
Image Courtesy:   familyfun.go.com     ;    familyfun.go.com      ;   familyfun.go.com     ;  familyfun.go.com
Cooking Recipes Specifically Meant For Young Cooks