How to Be a Bartender?
25 Oct 2010
If earning an extra bit of pocket money is what you are scheming for, learn how to be a bartender. Becoming a bartender needs skills – from being able serve customers quickly and innovatively to even refusing some who have had drunk too many – there are quite a few things that a bartender needs to keep in mind. Therefore, in this article, we shall discuss about the top five tips of becoming a bartender: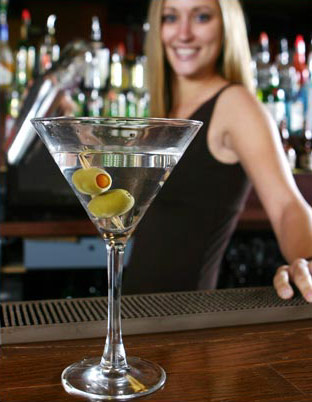 •    Bond with your Regular Customers:

In order to be a good bartender, it is important to know your customers well and share a bond with them. For example, if you have a regular customer who always orders a lime cordial every time she comes in, offer the same to her after a couple of times even before she says something. Similarly, keep an eye on the customers and give them what they need at the right moment. For example, light a lady's cigarette, keep a watchful on the ashtray and ensure that it is not overfull and so on. This will make your customers feel that you know them well and share a bond with them, which in turn will make you more popular.
•    Know Well:

For becoming a bartender – an efficient one – it is important to know the right things. For example, if you are working on a beer joint, know what is on specials so that you can recommend them to the customers whenever they ask. You should also know some basic and interesting facts about the beer on tap and some rules of making the basic shots. Besides having some knowledge about the classic cocktails, it is important that you have a thorough knowledge of the items that appear on your cocktail menu so that you can guide your customers accordingly. At the same time, you should know the right substitutes and be able to suggest the same when needed. Always verify with your clients if they are fine with a substitution. Keep a reputable bartender's manual for reference always with you and do not shy away from using it as and when needed.
•    Personality:

For becoming a good bartender, a balanced personality is very important. On one hand, you should have a pleasing personality and can treat clients with grace, respect and confidence. On the other hand, you should be able to turn away customers who have had too many drinks together in an assertive, yet not impolite way. For a good bartender, therefore, a diplomatic and balanced personality is very important.
•    Cleanliness:

Cleanliness is a must-have for becoming a bartender. Take care not to make sloppy drinks, pick up the empty glasses before setting the new one, serve the new glass on a clean bar napkin – in short, maintain cleanliness in all aspects. Wherever your clients are sitting, the place is clean - no puddles of alcohol, no sloshes of beer, no melted ice – it should be as clean and new seat.
•    Serving:

Being in charge of the bar, ensure that your garnishes are well stocked. Ensure that there's a good stock of napkins, matches in the napkins and match holders. Also, take a stock of the bar to know what is not available, so as to save yourself the embarrassment of taking an order and not being able to serve it later.
While there are a lot many things that you need to keep in mind while becoming a bartender, these are just a few basic tips that will surely earn you a huge tip. So, start with these - experience and practice will surely teach you the rest.
Photo Courtesy: metropolitanbartending.com
How To Be A Bartender?