How To Become A Butcher?
12 Aug 2010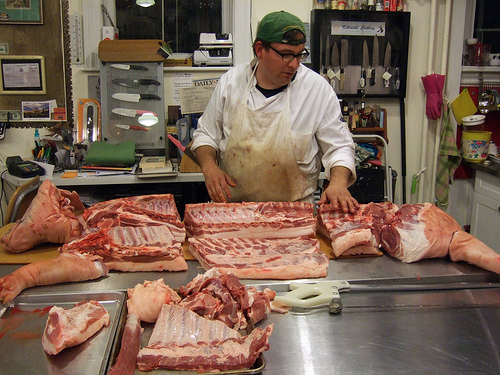 My aunt is a vocational guidance therapist at the local high school and she keeps sharing these instances where many a times, teens come up to her and ask, "how do I become a butcher?" without really knowing what becoming a butcher is all about. So, on her request I am posting this blog on how to become a good butcher.
What does a butcher do: A butcher's work involves slaughtering animals and preparing meat in different ways as desired by the customer. At times, a butcher may be required to interact with the customers and help them choose the right cut of meat. 
Work environment: Since the meat is processed in cold areas, to prevent spoilage and preserve freshness, the butcher has to spend most of his time in cold and damp rooms. The butcher will have to spend a lot of time around animal carcasses, and will be required to carry heavy cuts of meat around. Also, the work involves great deal of cutting and chopping of meats using sharp tools. A person wishing to become a butcher must be prepared to work under these conditions, both physically and mentally. 
Training requirements: Most of the training required to become a butcher is done on the job. Hence, the first step to becoming a butcher is to find a good and established butcher and work as an apprentice under him. Some states require specific memberships and apprenticeship under authorized butchers to be able to work independently. Do refer to these links for further information. A high school diploma is essential; also, it is recommended (though not essential) that the aspirants do at least one of the following courses:
Bachelor of Science - Culinary Management
Bachelor of Science - Hotel and Restaurant Management
Bachelor of Science – Business Management
Other requirements: Like any other career, hard work and perseverance is essential to rise further up as a butcher. Improving hand-eye co-ordination is essential to prevent on-job injuries; also, building up physical strength helps in carrying heavy meats around. Since, as a butcher you are required to handle food products day in and day out, the US government requires that the aspirants should not have any respiratory, skin, or any other communicable diseases. 
Career prospects for a butcher: According to recent statistics, the job prospects are very good for experienced and skilled butchers. As of 2009, the average annual income of a butcher with up to 4 yrs of experience was $23,331 to $41,116, whereas the annual income of a skilled butcher with an experience of 5 to 10 yrs was $30,502 to $40,893.
For further information on the various career prospects and trainings required to become a butcher do follow these helpful links by career stop and US bureau of labor statistics.  
Image credits: google.com
How To Become A Butcher?