The Tortilla Guy & Chef Paul Prudhomme
2 Aug 2007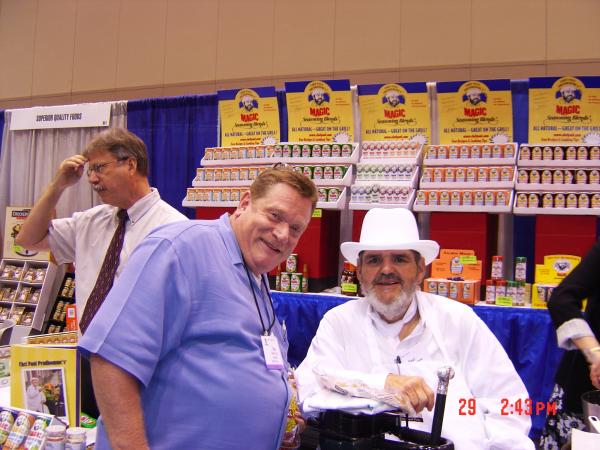 Hey All while at yet another food show in Chicago over the weekend I had the opportunity to meet and chat with a icon in the food business !!  Chef Paul attended the Kehe Show in Chicago over the weekend and he still does many trade shows and conventions to support his Magic Seasoning Blends.
Chef Paul Prudhomme the man that made Cajun cooking famous well before Emril and they others !!
Chef Paul has been featured on TV from NBC Today Show, Letterman, to Nightwatch with many others in between, he has wrote articles for Life, Time, Newsweek and Bon Appetit (even Playboy) among the many.
He has Won
Culinarian of Year and has been  named Culinary Diplomat , has cooked for Presidents and members of congress. Was one of the 12 chefs chosen to celebrate the 3000th anniversary of Jerusalem where each chef created a Kosher dish for the King David Feast  
He does Charity work and supports March of Dimes, Meals on Wheels, Big Brothers & Sisters , Chef and the child , and is the National spokesman for Cystinsis.
So Chef Paul myself " The Tortilla Guy" and www.ifood.tv salute you !!!
Thanks for your Great work !!!
The Tortilla Guy & Chef Paul Prudhomme