Dog Chow for Humans - Share thy pet's food!
7 Aug 2009
Want to bond with your dog? Want to show him how much he means to you…?? How about a nice dinner together, where you can both enjoy lovely and crunchy bowls of doggie kibbles and nuggets and maybe chew on a bone afterwards…? No??! Not even when dog food is tasty yet looks the same as the stuff in your doggie's bowl and especially made for humans? Introducing Kooky Chew!!
 
 
Yes, it may be a bit too weird for some people, but what better way to say 'I care' to your precious pooch?!
 
Kooky Chew comes in its very own little dog bowl. Inside is 2 1/2 ounces of crunchy cookie kibbles and bits. The meal is complete with a candy bone, which is popularly rumored to taste like sweet tarts.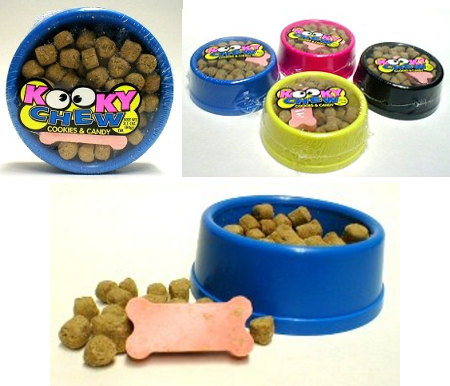 The kooky chew is available at the online store - http://www.stupid.com/fun/DOGF.html. It has to be said though, the store says that too much of indulging in such meals may make you chase cars and drink out of the toilet! …Woof!
 
image crediet:
 
http://www.stupid.com
Dog Chow For Humans - Share Thy Pet's Food!