Modernist Cuisine 2 Is In The Wings!
31 May 2012
When the "James Beard Foundation Awards 2012" were announced earlier this year, the "Modernist Cuisine" emerged as the top winner in the book category. This six-volume hefty tome on the science behind food cooking is soon going to have a sibling – Modernist Cuisine at Home" – a sequel to the hugely successful first book. However, this time, there will be only two, instead of three, authors – Nathan Myhrvold and Maxime Bilet. Chris Young, the third author on the first book, has not collaborated on this one.
1) The October Baby
The sequel to the mega-cookbook, "Modernist Cuisine", will be produced this Fall. It is named "Modernist Cuisine at Home" and its release date is October 8, 2012. It has already been listed on the Amazon.com at a cost of $115. The book runs into 456 pages and it has the same scientific approach to cooking, albeit from the point of view of home cooks. Also, there will be 400 new recipes to learn and try at home this time. The book is described as a "culinary revolution" just like its predecessor was. In fact, "The Cooking Lab," publishers of the "Modernist Cuisine", describe the second book in the following words –
"Modernist Cuisine at Home, by Nathan Myhrvold with Maxime Bilet, is destined to set a new standard for home cookbooks. The authors have collected in this 456-page volume all the essential information that any cook needs to stock a modern kitchen, to master Modernist techniques, and to make hundreds of stunning recipes. The book includes a spiral-bound Kitchen Manual that reprints all of the recipes and reference tables on waterproof, tear-resistant paper. Drawing on the same commitment to perfection that produced Modernist Cuisine, Modernist Cuisine at Home applies innovations pioneered by The Cooking Lab to refine classic home dishes, from hamburgers and wings to macaroni and cheese."
2) The Techniques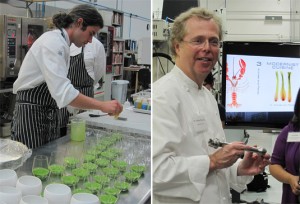 Since the book talks about the science behind home cooking, there are bound to be technical descriptions inside. The authors have dealt with everything from how to cook fish and steak perfectly to how to make stocks in a pressure cooker. The book deals with vegetable soups and purees as well as with crispy pizzas. Among the 400 new recipes, some will teach you to cook "perfect eggs and breathtaking omelets" while others will help you with making finger-licking gravies and "a wonderfully rich hollandaise sauce." Be it "a flawless cheeseburger", "better chicken wings, or an "ultra-frothy milk shake", the "Modernist Cuisine at Home" will make a perfectly scientific cook out of you.
3) The Tools
A chef is as good as his kitchen tools and that is what the authors believe too. That is why, as many as 100 pages of the book have been dedicated to such wonderfully useful information as to how to test accurately with a thermometer, how to marinate meats more quickly, how to avoid using expensive copper pans, how to deep-fry without a deep-fryer, and how to use a blowtorch perfectly. All this may already be sounding music to the ears of the cook inside you but you will have to wait till October this year to learn all this. To be on the safe side, you may pre-order the book from Amazon.com.
4) The First One Still Going Strong
The mega-cookbook that Myhrvold wrote with Bilet and Young, is still a rage among its fans. The book has already sold about 45,000 copies and according to Wall Street Journal, it has garnered about $20 million in sales so far and is still counting. Apart from English, the book has been translated into German, French, and Spanish languages and it is being sold for as much as $450 online. Of course, you would expect nothing less from a book, for which "36 scientists, chefs, editors, and photographers" were hired to work over a span of three years. And all Myhrvold can manage to say is "I'm thrilled with our sales."
Well, let us hope that the "Modernist Cuisine at Home" will have him a bit more excited because if the preview is anything to go by, the sales are not going to stop anytime soon. So pre-order your copy now!
Image Courtesy: amazon.com, foodnouveau.com
Disclaimer: The image copyrights belong to its owner. The usage of the image in this blog is purely for the entertainment purpose. No copyright infringement intended.
Modernist Cuisine 2 Is In The Wings!