Aunt Gussie's Products
29 Jun 2007
Travel in time from our humble beginnings as a start-up company in a home kitchen to the present, a large state-of-the-art facility. To celebrate our 20th year in business, we have impressively revamped our logo and packaging.
Aunt Gussie's offers the best tasting cookies, biscotti and cracker flats using organic wheat & spelt flours. A healthful variety of both sugar-free, low fat and fat free products are available along with our original, classic cookies. We also have low carb varieties. Do the math yourself (Carbs – Fiber –Maltitol = Net Carbs).
So whether you're looking for treats with or with out sugar, wheat or wheat alternative (spelt) products, we can fill that need without sacrificing taste!
FAQs
1. What is Maltitol?
Maltitol is a member of a family of bulk sweeteners known as polyols or sugar alcohols. It has a pleasant sweet taste--remarkably similar to sucrose. Maltitol is about 90% as sweet as sugar, non-cariogenic, and significantly reduced in calories. There are many advantages in using maltitol over regular sugar and the safety of maltitol has been proven and approved by the U.S. Food and Drug Administration, UN World Health Organization, and EU's Scientific Committee for Food. For further information please visit the following sites.
http://www.caloriecontrol.org/maltitol.html
http://www.spipolyols.com/whatarepolyols.html - Supplier
2. What is Spelt Flour?
Popular in Europe for centuries, Spelt is used in a wide variety of cereals, pastas, crackers, baked goods, and beers. The ancient Romans knew it as "farrum", Italians now call it "farro"; today's Germans know it as "dinkle." Spelt has been used successfully, under physicians' supervision, as a wheat substitute for people who have wheat allergies.
Spelt's uniqueness is derived from its genetic makeup and nutrition profile. Spelt has high water solubility, so the nutrients are easily absorbed by the body. Spelt contains special carbohydrates (Mucopolysaccharides) which are an important factor in blood clotting and stimulating the body's immune system. It is also a superb fiber resource and has large amounts of B complex vitamins. Total protein content is about 10% greater than the common varieties of commercial wheat.
3. What is meant by No Sugar Added?
The term No Sugar Added describes some of our cookies and crackers (such as raisin almond biscotti, orange biscottini, and cinnamon raisin crackers) that contain natural sugars from the natural ingredients (such as raisins, oranges, and unsweetened apple juice). We do not add any sugar to these products, thus the name No Sugar Added. Appropriately, we do not make the Sugar-Free claim because of the natural sugars that are included in the nutrition facts of all the items.
4. What is Organic Palm Shortening?
Organic Palm Shortening is a type of shortening used in various Aunt Gussie's cookies that is non-hydrogenated and made from organic palm oil. For further information please visit our supplier's website.
http://www.spectrumnaturals.com/organicshortening.html
5. What makes Aunt Gussie's Biscotti more unique from traditional biscotti?
Traditionally most biscotti are quite hard and difficult to eat, and many of them include butter. However, none of these characteristics accurately describe Aunt Gussie's Biscotti. Our biscotti are crunchy without being as hard as typical biscotti because we use canola oil instead of butter for great taste. These biscotti are also made with organic wheat or spelt flours, sugar-free or with sugar, and you are sure to find a flavor that satisfy your taste from a long list of delicious flavors.
If you have additional questions or comments, please email us at info@auntgussies.com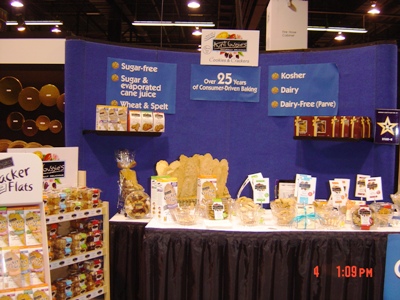 Aunt Gussie's Products