Bacon Maple Ale –A Confusion Of A Drink!
23 Apr 2012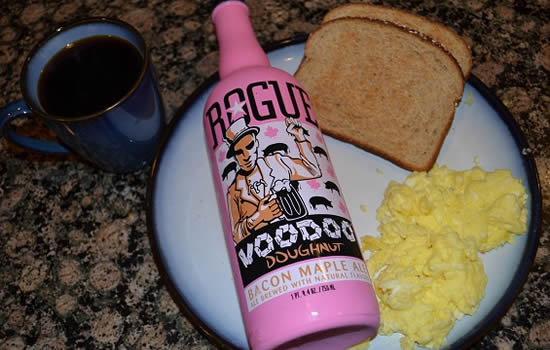 The brewers are constantly taking chances to brew new flavors. This quest has led to the production of Rogue Ales and Voodoo Donut's joint venture - Bacon Maple Ale. Yes, you read it right! This beer is a mix of flavors like maple syrup, bacon, and malt and though it may not work for everybody, the drink has a panache which will make it stand apart. Here is why:
1) The Breakfast Beer
This fatty brew, which comes for $13 a bottle and $156 a case, is a weird flavor, which comes in a stand-out pink bottle that screams out at you from the supermarket shelves. The flavor is a joint venture of Rogue brewers and Portland's legendary Voodoo Doughnut. The beer is based on the Voodoo's Maple Bacon bar, which is an average maple Long John with two thick strips of bacon laid across. This beer is available only through the mail or at select locations around Oregon. If you want to have a taste of what the beer would taste like, watch the video where culinary TV personality Adam Richman pays a visit to the Voodoo Donut outlet in Portland.
2) The Reviews
Read what the media is reviewing this beer like:
The Maple Daily – "It generally tastes like a dirty, ashy smoked beer without any of the subtlety of the finer Bamberger rauchbiers. The maple syrup notes pop up now and again, but the smoke flavor, along with fatty hits of unwanted bacon, dominate."
Willamette Week – A variety of opinions were reported about the beer, not a single one among them positive – "smells like a candied ash tray," "I need a cigarette to get this taste out of my mouth," and "If they wanted to make this taste like a bacon maple bar, it misses the mark in addition to being a foul abomination."
Ouch!! All the reviews hurt so, should you go and buy it?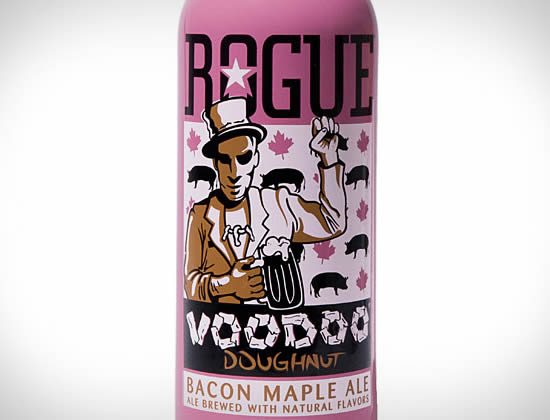 3) Others Before Rogue 
Rogue and Voodoo Doughnut's effort at giving a new definition to beer is nothing new. Others have done it before them. In fact, just last year, there were 14 different flavors of bacon beer in the market, having tamer ingredients like lemongrass and coconut to the stronger ones like Thai chilis, and chocolate. Among those who have made these attempts are Brooklyn Brewery, Uncommon Brewers, and Watch City Brewing Company. And who can forget Tweason'ale's Gluten-free beer, which almost tasted like champagne. No bacon, but the difference is there. Besides, other flavors that have found their way into the brew are brown rice syrup, hawthom berry, juniper berries, black tea, cinnamon, ginger, black pepper, Aztec cocoa powder, honey, annatto, and Muscat grapes.
One of the media reviews suggests that you can eat a plate of eggs and toast with the Voodoo Doughnut beer and have a complete breakfast. But whether you actually will include this beer in the best beer food pairings is something you should answer only after you take a sip out of that pink bottle.
Image Courtesy: helablog.com
Video Courtesy: youtube.com
Bacon Maple Ale –A Confusion Of A Drink!