New Cook Book Reveals How To Cook Without Unhealthy Ingredients

30 Mar 2012
You can certainly have your cake and eat it too now thanks to Emily Rose, the prolific cookbook author. You may wonder what is so special about it as cook books are dime a dozen now. Wait! Here's the interesting part, Rose makes use of nutritious ingredients that include spinach, mushrooms, drumsticks of soy and carrots but the children sure love them.
She also uses totally healthy ingredients which are high on nutrition as well as delectable to taste.  Rice bran oil and natural honey find their way into the food instead of the unhealthy butter and sugar. Whole wheat is used as an alternative to the white flour thereby greatly adding to the texture and taste. Moms want the best for their kids and Emily has shown them how to come up with high fiber, low sugar dishes that would make your kids squeal with pleasure.
Let us see what her books contain and what can the working Moms with hard to please kids expect from them.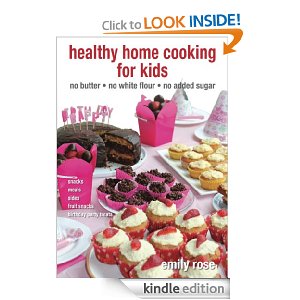 This book includes a wide array of dishes suitable for every meal. Almost all the courses be it main dish or side dishes along with snacks and dessert items have been covered in it with a special section being devoted to birthday parties and treats that can be whipped up in a jiffy. A dessert pizza prepared with chocolate and luscious strawberries is bound to satiate your ids while interesting concoctions like the honey soy drumsticks and mushroom spinach lasagna can prove to be wholesome and exciting at the same time.
This is an exquisite collection of decadent desserts from Emily Rose with none of the items requiring for than ten minutes to prepare. There is none of the elaborate or long drawn out methods that one usually associates with the making of desserts and Emily ensures that busy Moms can have it all done with the aid of just a bowl and a whisk. Sifting of white flour, added sugar or folding in of butter are procedures that find no mention in this superb easy to bake and make book of desserts.  A must for all moms who have to look after hyperactive kids aged between four and twelve.
Emily, a mother of four herself is from Melbourne, Australia. She engaged her own kids in the kitchen while she experimented with the healthy alternatives like whole wheat and natural sweeteners like honey. Her kids learnt to appreciate the value of wholesome, nutritious ingredients on the way and saw that colors, preservatives, and additives only mask the natural taste of healthy ingredients. They had a fun time tasting each dish and none of the dishes were passed until they won rave reviews from them.
Do check them out and let us know how your kids enjoy the healthy dishes that you can prepare easily within minutes.
New Cook Book Reveals How To Cook Without Unhealthy Ingredients