Top 10 Persian Cook Books

16 Mar 2012
Persian food is a fine amalgamation of food culture and cuisines from different places of the world which saw emigration from the ancient land. Cookbooks from the region offer a huge collection of recipes, cooking traditions and techniques which strive to make the process much simpler. Our top 10 choices for Persian cookbooks have been gathered to guide you through Persian cooking in an easy manner.
1. The New Book of Middle Eastern Food by Claudia Roden: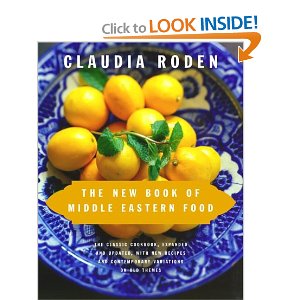 One of the best sellers in Persian food, this book is now enlarged and a much updated version. The main reason for the popularity of this book is the existance of nearly 800 recipes which includes some of the best in aromatic variances. There are very simple approaches to some of the most traditional Persian dishes. Many time saving methods, newer cooking techniques and some great cooking tips are explained here.
2. Pomegranates and Roses: My Persian Family Recipes by Ariana Bundy: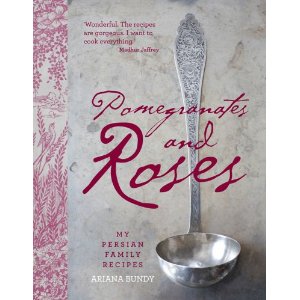 The author inherits her cooking skills from her grandparents and several landowners who themselves grew apples, plums, cherries, goats, sheep - thus, her recipes are mainly a collection of healthy and fresh cooking. This cookbook includes imperial as well as metric measurements and conversion charts for the ease of the customers.
3. From Persia to Napa: Wine at the Persian Table:
One of the very few cookbooks which has woven poetry, history and modern viniculture like never before. This book is undoubtedly referred to have a wealth of recipes and wine pairings which celebrate the wonderful relation of food and wine. Easy explanations, tips and guides on Persian cuisine and foods have made this book highly popular.
4. Food of Life: Ancient Persian and Modern Iranian Cooking and Ceremonies: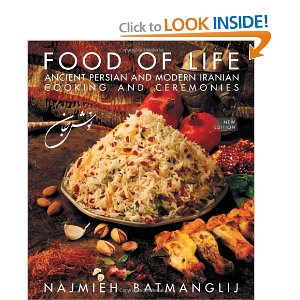 One of the top selling books on Iranian cooking and food, this book is a collection of nearly 330 regional and classical recipes, explained in an easy format. Besides this food lovers and chefs get to know a lot about culture, food and history of the region through hundreds of photographs and short descriptions.
5. A Taste of Persia by Najmieh Batmanglij:
A vivid collection of some of the oldest cuisines and authentic recipes which well adapt into today's lifestyle and kitchen. Very light appetizers and delicious kebabs, hearty and rich stews, golden crusted rice and other dishes are explained in some easy to follow instructions. Many distinct Persian herbs, fruits and spices are used in the recipes which make these unique and traditional. Readers also get to know about Persian cookery and several cooking techniques from the region. There are more than 100 recipes and nearly 60 photographs.
Other Best Cookbooks from Persia:
1. Persian Food from the Non-Persian Bride <br>and other Kosher Sephardic recipes by Feldheim
2. Persian Cooking by Nesta Ramazani
3. New Persian Cooking: A Fresh Approach to the Classic Cuisine of Iran by Jila Dana-Haeri
4. Persian Cuisine: Traditional, Regional, And Modern Foods by M. R. Ghanoonparvar
5. In a Persian Kitchen: Favorite Recipes from the Near East (No) by Maideh Mazda
So, just pick up the  cookbook of your choice and start preparing authentic or contemporary Persian dishes as per your choice.
Image credits: amazon.com
Top 10 Persian Cook Books