The foundation of Amish kitchens, the Pennsylvania Dutch cuisine, is the concept of seven sweets and seven sours. All the Amish cook books have been designed keeping in mind this basic concept. While the dishes of this kitchen share a close resemblance with German delicacies, they are distinct on their own, with most of them using locally grown veggies and meat. Desserts make a quintessential ingredient of Pennsylvania Dutch cuisine. So, here we start the journey into the culinary world of Amish families with these cooking guides…

Authored by Georgia Varozza, the title says it all. The simple culture, multi—hued quilts, and exotic hearty meals – the book captures the beauty of all these. Right from the heart of Amish families, this book is the celebration of Amish culture and food. The scores of recipes outlined in the book can be prepared without too many efforts. From the classic graham nuts cereal to the scrapple and Snitz pie, this book offers them all. In short, this book is the key to exploring simple, yet exotic meals at home in an effortless fashion.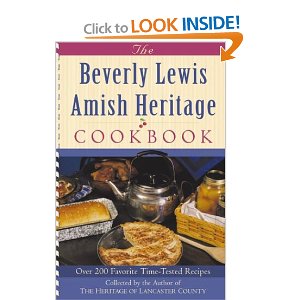 Penned by Beverly Lewis, the book offers a sneak preview of the authentic Amish recipes. The efforts made by the author in collecting and sharing the recipes from her grandma and friends are worth appreciating. Along with her fictional insights into the life of Amish, Lewis has outlined the recipes in an easy to follow pattern. A great treasure to preserve; an appealing gift for the good food lovers – that is what this book is.

If you wish to try your hands at preparing some simple Amish delicacies, then you ought to own a copy of this book penned by Lovina Eicher. The recipes mentioned in this book has been written based on the four seasons as well as locally produced veggies, meat, and fruits. Along with tantalizing recipe images, each of the recipes is accompanied by interesting tips, hints, and anecdotes. A great book that can be used by the novice and experienced cooks alike!



Other Best Amish Cook Books



Amish Quilting Cookbook by Sara Yoder




Lizzie's Amish Cookbook: Favorite Recipes from Three Generations of Amish Cooks by Linda Byler




The Amish Cook: Recollections and Recipes from an Old Order Amish Family by Elizabeth Coblentz




Amish Taste Cooking Step by Step by Alma Hershberger




From Amish and Mennonite Kitchens by Rachel T. Pellman




Cooking from Quilt Country : Hearty Recipes from Amish and Mennonite Kitchens by Marcia Adams and Alexandra Avakian




The Original Amish Cook Cookbook by Kevin Williams and Elizabeth Coblentz

Choose from the Amish cook books mentioned here and start cooking now!

Image Credit: amazon.com