Top 10 Filipino Cook Books

22 Feb 2012
The dishes of Philippines symbolize the blend of various cuisines, including Asia, Hispanic, American, and Chinese. Hence, let the masters – Filipino cook books – guide you while you prepare the delightful delicacies to cook up a sizzling dinner! Each of the dishes from this cuisine is rich and unique. Simple ingredients blend in an admirable way yielding masterpieces. Here are a few cook books that will act as your guide…
1. Memories of Philippine Kitchens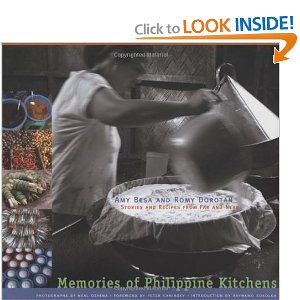 Penned by Amy Besa, this book is the soul and essence of Filipino food. The books unveils the mesmerizing recipes that remained secluded in the kitchens of Philippine homes. The book presents 100-plus recipes, accompanied by tantalizing images by Neal Oshima. The anecdotes and stories of the authors as well as the local cooks make this book an interesting read. If you are looking for a Filipino cookbook, this should unquestionably be your first choice.
2. The Filipino-American Kitchen: Traditional Recipes, Contemporary Flavors
Authored by Jennifer M. Aranas, the books offers 100 recipes, that are both traditional as well as contemporary. A perfect guide for those who are new to Philippines cuisine, this book offers you an overview of the culinary heritage of this nation. The book also offers information related to the various ingredients used in the kitchens of Filipinos.
3. Filipino Cookbook: 85 Homestyle Recipes to Delight Your Family and Friends
Treat your friends to indigenous Filipino delights by adopting this book as your culinary mentor. Written by Miki Garcia, this book offers 85 time-tested delectable delights. Along with some wonderful pictures, the book is a delightful collection of authentic Filipino recipes, including vegetable dishes, seafood delights, as well as the spicy, colorful curries.
Other Best Filipino Cook Books
The Philippine Cookbook by Reynaldo G. Alejandro
Authentic Recipes from the Philippines
Filipino Homestyle Dishes: Delicious Meals in Minutes by Norma Olizon-Chikiamco
Filipino Cuisine: Recipes from the Islands (Red Crane Cookbook Series) by Dr. Gerry G. Gelle
Philippine Recipes Made Easy by Violeta A. Noriega
Filipino Cookbook Recipes: The Most Loved Authentic Filipino Dishes by Ingrid Ligaya
Filipino Food Recipes Cook Book: Delicious and Easy Recipes by Weng Solis
Each of the ten Filipino cook books are different with each having a standard and class of its own. There is nothing like the best or the worst among them. So, choose the one according to your choice and convenience. Happy cooking!
Image Credit: amazon.com 
Top 10 Filipino Cook Books