Top 10 Irish Cook Books

21 Feb 2012
The flavorsome dishes produced by blending and mixing the simple, local ingredients of Ireland have gained wide popularity. The Irish cook books are, perhaps, the shortest and the easiest way for the people of other nations to know about the cuisine of this area. Since the kitchens of Ireland offer countless tasty dishes, there is always a confusion about the cooking procedures. Put your perplexities to rest with some of the best cooking guides mentioned in this blog…
1. Irish Traditional Cooking: Over 300 Recipes from Ireland's Heritage
Penned by Darina Allen, this book is a comprehensive guide to 300 plus classic and authentic recipes of this nation. Accompanied by tales, insights, customs, and tips, this book is one of those gifts that can be passed down to generations. A sound source of genuine Irish cooking, this cook offers a broad view, in a quite easy fashion. This book is recommended for a novice or an expert cook, equally.
2. The Irish Heritage Cookbook
This is one of the most sought after Irish cooking guides. Margaret M. Johnson, the author of this book, offers a clear cut view of what Irish cuisine is all about. From the evolution to the influences and modifications, the book talks everything about the heritage recipes. A bountiful collection of classic and contemporary delicacies, this book is a treasure to be preserved. In my view, this book is the perfect company for the experienced cook who wants to explore the ethnic dishes as well as for the amateur everyday cook who is in search of simple, fresh ingredients and easy procedures with magnificent fusions.
3. Classic Irish Recipes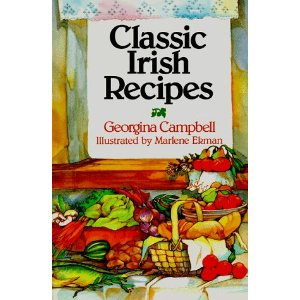 Written by Georgina Campbell, this book is the abode of some of the tastiest Irish recipes. This book offers a little bit of everything - from the soups and sauces to the main courses and desserts. Along with marvelous illustrations and handy tips, the book offers charming presentation. An interesting ready, this book is a one-stop guide to food lovers with assorted tastes.
Other Best Irish Cook Books
Festive Food of Ireland by Darina Allen
Lonely Planet World Food Ireland by Martin Hughes
Myrtle Allen's Cooking at Ballymaloe House: Featuring 100 Recipes from Ireland's Most Famous Guest House by Myrtle Allen
Mcguire's Irish Pub Cookbook by Jessie Tirsch
The New Irish Table: 70 Contemporary Recipes by Margaret Johnson
A Little Irish Cookbook (Little Books) by John Murphy
Irish Cuisine - Simple, Hearty & Full of Flavor by Chefs Secret Vault
So, the next time you want to try Irish delicacies, just pick up one of these Irish cook books and start cooking.
Image Credit: amazon.com
Top 10 Irish Cook Books