Top 10 African Cookbooks

14 Feb 2012
Trying to cook an African meal without having a proper guide is sure to be a complete disaster. But, how to choose  African cookbooks when you know that Africa is home to countless ethnicities and tribes, each having their own version of the same recipe? To keep it simple, you should decide the part of the nation from where you want to try out recipes. This write-up gives you information about 10 different cookbooks of African cuisine, each versatile on its own. Read on to know more…
1. The African Cookbook
Authored by Bea Sandler, this is the most sought after among the African cooking guides. This book offers you time-tested, classic recipes from almost all the African regions and cultures, along with the common cuisines enjoyed by the people of Africa. A handy guide, this books is a mentor, in the correct senses, if you are newbie to African recipes.
2. North African Cooking: Exotic Delights from Morocco, Tunisia, Algeria, and Egypt (Global Gourmet)
This book by Hilaire Walden is the perfect choice if you want a simple, yet extensive book at an affordable rate. The book introduces you to the various culinary traditions, kitchen equipments, assorted flavors, and countless wines of Africa. The book is divided into chapters, with specific sections on appetizers, salads, veggies, fish, poultry, and meat recipes followed by desserts, drinks, and spice mixes. Every page of the book offers the image of the dish that is an add-on.
3.  A Taste of Africa
This book offers comprehensive information about the traditional as well as contemporary African recipes. Written by Dorinda Hafner, it is a tantalizing book that offers a guaranteed celebration of one of the most dynamic cuisines of the world. Loaded with 100+ recipes, this book comes with illustrations, in the form of maps and folk tales, that makes it a treasured entry into your cookbooks trove.
4. Flavors of Africa Cookbook: Spicy African Cooking - From Indigenous Recipes to Those Influenced by Asian and European Settlers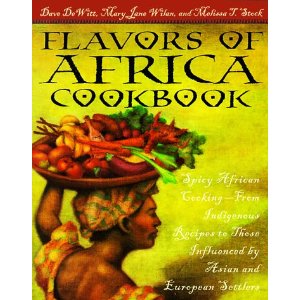 Authored by Dave Dewitt, Melissa T. Stock, and Mary Jane Wilan, this book takes you into a world of fascinating and fabulous flavors and aroma. From the Arabic-influenced North African cuisine to the indigenous Central African delights to the fusion-rich South African delights, this book is a definitive guide while you travel through the culinary wonders of this continent.
5. Couscous and Other Good Food From Morocco
Published in 1973, this book by Paula Wolfert is an adorable gift for African food lovers. The book offers time-tested and delicious recipes from the magnanimously rich Moroccan cuisine. A definite Moroccan kitchen guide, the author has vividly and alluringly explained the recipes. This book is an inspiring read for those who love good food.
Other Best African Cookbooks
The Vegetarian Table: North Africa by Kitty Morse
Iron Pots and Wooden Spoons: Africa's Gift to New World Cooking by Jessica B. Harris
I Was Never Here and This Never Happened: Tasty Bits and Spicy Tales from My Life by Dorinda Hafner
Cape Malay Cooking: South African by Sonia Allison
The Africa News Cookbook: African Cooking for Western Kitchens (Penguin Handbooks) by Tami Hultman
African recipes vary with communities, with each highlighting the cultural diversity. The above mentioned African cookbooks are sure to help you make several delicious dishes and impress your friends. So, make them your friends now!
Image Credit: amazon.com
Top 10 African Cookbooks