Top 10 French Cook Books

22 Dec 2011
Cook books on French cuisine are a 'must-have' in the collection of anyone who loves the cuisine of the country that lives and eats in style and elegance. But while there are plenty of cook books out there, it is easy to feel flummoxed as to which one would best suit your personal cooking style and preferences. It is therefore important that you take a look at some of the best books available in the market before heading to the local book store and finding yourself lost in the modern jungle of fancy cook books.
1. The French Slow Cooker  
Michele Scicolone, the celebrated author of The Italian Slow Cooker, comes back yet one more time to teach us the art and flair of authentic French cooking. You will find original recipes for preparing vegetable soup , braised beef and lip-smacking chicken. Low-effort and yet delicious, the recipes will fill your house with the aroma of fresh French food. 
2. The Bonne Femme Cookbook: Simple, Splendid Food That French Women Cook Every Day (Non)
Wini Moranville brings to you the science and art of French cooking without the fuss and panic. This book is really about how the 'bonne femme' or the typical French women cook at home while going through their hectic work-lives and managing home. It's all about easy techniques, speedy preparations and simple food. 
3. French Brasserie Cookbook: The Heart of French Home Cooking
Just as the title of the book suggests brasserie recipes have always been at the heart of French cooking. There are about 100 recipes for brasserie cooking but what distinguishes this book is the Mediterranean twist Galmiche adds. It's a real winner if you have the taste buds of a connoisseur. With this book you can really say "bon-apetit"!
4. Mastering the art of French Cooking 50th Anniversary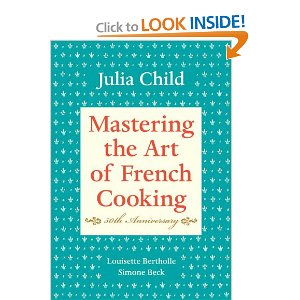 This classic cook book by the legendary Julia Child is a real gift to all French food lovers. The book is a compilation of all 524 recipes of Child. It is a complete course in mastering the true art and science of French cuisine.
5. Around My French Table: More Than 300 Recipes from My Home to Yours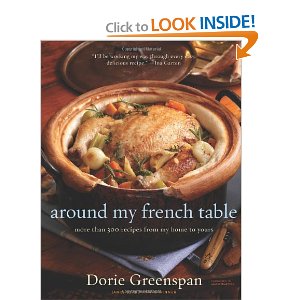 This book by Dorie Greenspan is another must-by for any wannabe chef. It is an anthology of some of the finest French recipes that you can easily make at home following Greenspan's lucid directions.
Other Best French Cook Books
6. Bistro: French Country Recipes for Home Cooks
7. Twenty-four little French dinners and how to cook and serve them
8. French Kitchen a Cook Book
9. When French Women Cook: A Gastronomic Memoir with Over 250 Recipes
10. The Country Cooking of France
Now, that you are familiar with all the terrific books available in the market, time to grab one and cook French style!
Image courtesy: amazon.com  
Top 10 French Cook Books