The Kraft Cream Cheese Cookbook Review
23 Nov 2011
The sinfully addictive joy of cream cheese is a like a rite of passage, everyone must try it once! The domain leader in this category is a century old manufacturer, Kraft Philadelphia. Their brand of super-smooth, ivory tinted, luscious cream cheese has been a star performer since the 1940's. The Kraft Philadelphia Cream Cheese Cookbook is a generous reward for their loyal customers, designed to fill a niche in the market. The earliest company recipes were published in1931, and no doubt, many grandmothers exchanged variations and techniques over picket fences!
Decades of Cream Cheese: Slurp!
If you prefer the gentle, comforting, melt-in-the mouth happiness of just cream cheese, then reach for the Kraft Philadelphia cream cheese cookbook. The bounty within will do much to satisfy your cravings, with simple recipes and a variety that promises to keep you busy rustling up glamorous treats for the dining table. From the retro 1973 title of the Kraft cream cheese cookbook, to the colorful 80's hardback of cream cheese cheesecake special, right up to the 100th anniversary of Kraft Philadelphia, there is a platter of cream cheese secrets to choose and relish.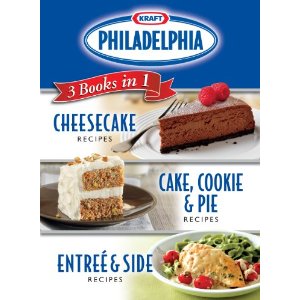 Devoted followers of this velvety, decadence-in-a-tub can select the 3 in 1 cookbook as well. This unique offering includes a 288-page section simply titled, Philadelphia cheese. The 120-page section on other ingredients paired with cream cheese brings added flavor and ease to the adventurous cook!For the unbridled greed that has you reaching for an extra spoonful on muffins, pies, cakes and sandwiches, hundred of recipes using  poultry, seafood, pastas and a myriad basket of breads, there is salvation in the pages above
The many roles of this satiny and irresistible cheese are in full splendor in the refreshing, clever, and quick recipes of the cream cheese cookbooks above. Grab a spoon and leave the waist belt in the cupboard. Where it belongs!
Image Credits: ecx.images-amazon.com/images 
The Kraft Cream Cheese Cookbook Review