Top 3 Venison Cookbooks
14 Nov 2011
There is a new player in the red meat market. To add to the trinity of Beef, Pork, and Lamb, there's good news! Try Venison. As a game meat, it may not be as famous as its other cousins, yet the juicy, earthy flavored meat is gaining ground in the culinary jungle. Its chewy texture in burgers and steaks makes it a hearty mouthful. In stews and pickles, it blends wonderfully well with aromatic spices such as cinnamon and cloves.
Listed below are three cookbooks that will guide you through the world of Venison.
1. The Complete Venison Cookbook – by Harold Webster Jr.
This cookbook is the bible for any venison lover. It has 700 recipes for all kinds of stews, steaks, grills, and burgers. The book also includes a section on smoking meats, pickling, and storage tips. One of the best venison cookbooks, the language is simple and easy to follow through. A bonus in this cookbook is the index with 250 recipes that complement venison. While the cook glances through many pictures listed so generously, you may find it difficult to choose which recipe to re-create! The best way to find out is on the dining table. So choose this cookbook if you are struggling to come up with a gourmet quality meal, with a meat that is unique in its texture and flavor.
2. The Quality Venison Cookbook –by Steve and Gale Loder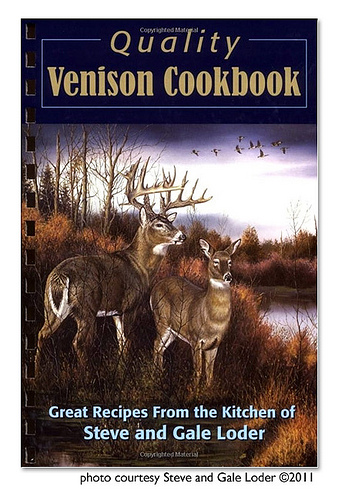 What does one do with 70 pounds of game meat? The average deer meat is quite a   chewy mouthful. Steve and Gale Loder have come up with 300 ways to handle this stomach cruncher, with a handy spiral bound cookbook. The sections include tips on processing the meat and various preservation techniques. This cookbook also includes recipes that encourage the cook to add fresh vegetables and seasonal produce along with the venison. Kebabs, burgers, meatloaves, rich stews and even tips on sauces, bring a gamut of options to any cook. Though not as extensive as the above listed book, you will not run out of ideas with this choice.
3.    The Complete Venison Cookbook- by Jim and Ann Casada 
As identical as it may seem with the first listed book, this offering by Jim and Ann Casada, breaks the myth of tough cooking for venison.
 Their book includes various recipes for venison, both seasonal as well as preservation. Choose between crock-pot stews, venison jerky, sausage-rolling techniques, and even ground venison. You find tips on how to hang and age the deer, as well as recipes for the small, bit parts of meat that tend to be wasted.
Peek through the history of deer hunting, and choose from the various roasting, grilling and baking recipes. There are many recipes with fresh vegetables, even the use of fruits such as berries add flavor to the list of traditional red meats.
This is by no means a final list of excellent venison cookbooks. In the months and years to come, many innovative cooks will find unique ways to turn a hunting bounty into a glamorous gourmet dish. For those of us, who thrive on testing our taste buds with newer flavors, the recipes in the cookbooks above are steps in a new culinary journey. Happy Hunting!!        
Image credits: venisonrecipes.net, sportsmansguide.com, farm6.static.flickr.com, t3.gstatic.com 
Top 3 Venison Cookbooks