Top Three Mushroom Cookbook Reviews
31 Aug 2011
Today, mushrooms are more popular than ever. Chefs everywhere use these palatable morsels to provide a potent punch of flavor, without adding many calories or fat. These top three mushroom cookbooks are recommended for all fungi lovers, old and new. With great tips and fabulous recipes, along with striking illustrations, these cookbooks can be a great buy.
1. The Mushroom Lover's Mushroom Cookbook and Primer – Amy Farges
No one has done more to make mushrooms infamous in the United States as author Amy Farges. She is a food writer and co-owner of the national mushroom distributor Aux Delices Des Bois. This Cookbook contains a whopping 175 recipes with mushrooms and also walks the reader through selecting, cleaning, storing and cooking with mushrooms. It has some gorgeous photographs that will leave anyone drooling. This cookbook offers an abundance of delicious eating inspired by common and exotic mushrooms, and very well suited for both family meals and special event celebrations.
2. The Complete Mushroom Book: Savory Recipes for Wild and Cultivated Varieties – Antonio Carluccio
This mushroom cookbook provides a genuine spread of more than 150 mushroom recipes—from traditional Italian preparations to Asian-inspired creations and modern dishes. Stimulation photos along with each recipe call to mind the basic sensuality that only mushrooms can evoke in an individual. In The Complete Mushroom Book, Antonio Carluccio brings an excitement with his knowledge and expertise in the kitchen and truly helps the reader reap the satisfaction of cooking with mushrooms . The best part about this book is how it is beautifully designed with elegant color photographs and useful sidebars.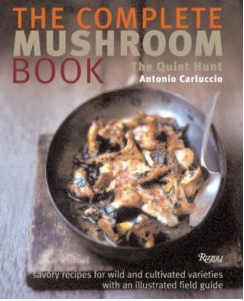 3. Mushroom Cookbook: Recipes for White and Exotic Varieties – Mimi Brodeur
Most mushroom cookbooks on the market focus on only a few common varieties found in your everyday market, especially button mushrooms: not so this one. From appetizers to soups and main dishes, recipes blend in all kinds of mushrooms - and an index makes it easy to locate dishes for specific kinds of mushrooms. Herbed Veal Roast with Exotic Mushrooms and Cheesy Portabella Mushroom Sandwich are only a few of the dishes which are unusual and appealing. Color photos might have added even more attention to finished dishes, but the instructions are very clear and easy to follow. 
These top three mushroom cookbooks with their colorful covers make great coffee table additions as well. However, you will find yourself using them so frequently that you will not be able to keep them out of the kitchen. Buy these cookbooks online at amazon.com 
 Image credit – amazon.com 
Top Three Mushroom Cookbook Reviews