Top Three Shrimp Cookbook Reviews
31 Aug 2011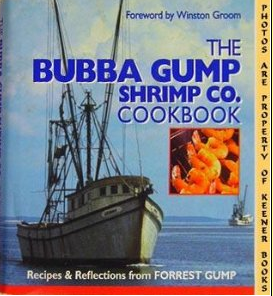 If you like seafood and if you love shrimp, you ought to have one of these top three shrimp cookbooks. Every recipe detailed in these books is scrumptious, delicious, and unforgettable. Read their reviews to decide which one of these shrimp cookbook's you'd like to pick up.  
1. The Bubba Gump Shrimp Co. Cookbook: Recipes and Reflections from FORREST GUMP - Editors of Southern Living Magazine
You will be greeted with a multitude of recipes in this fabulous cookbook that will teach you how to make appetizing treats like shrimp kabobs, shrimp creole, shrimp gumbo, shrimp cocktail and all sorts of ways to cook and eat shrimp. Filled with 75 recipes, there is something for everyone one here. From barbecue to boiling, and frying and sautéing, there are myriad ways to cook this seafood.   The recipes are simple and easy, nothing that will daunt you and they don't require too much time in the kitchen either.
2. The Ultimate Shrimp Book: More than 650 Recipes for Everyone's Favorite Seafood Prepared in Every Way Imaginable – Bruce Weinstein
What makes this particular shrimp cookbook stand apart from the rest is the supremely useful section on buying, preparing and storing. There is also an entire section on equipment and ingredients, and sources. This cookbook comes chockablock with 650 recipes spanning at least six different cuisines. To come up with so many deviations with a single crustacean is no simple task.  The author has also taken simple everyday dishes and jazzed them up by using shrimp. You will find food items like shrimp tacos, shrimp pizza, and even shrimp Bruschetta.  You should be aware that the majority of the recipes in this book are alterations and just a handful, truly unique ones.
The one thing that this shrimp cookbook does not have is color photographs. This can be a deal breaker for some, so if you do like illustrations, this book is not for you.  However this book truly does make that up with its excessive mouth watering recipes.
3. Simply Shrimp: 101 Recipes for Everybody's Favorite Seafood – Rick Rodgers
This premium quality paperback cookbook mingles the vitals, such as choosing shrimp by category (salt water, fresh, wild-caught, coldwater, freshwater, farm-raised, frozen), by mass (cocktail pinks to super-sized), and preparation (peeling, deveining, and brining), with easy recipes for shrimp stock and cooked shrimp. The power of this shrimp cookbook is the entrées, which are easy-to-make and scrumptious.
After canned tuna fish, shrimp is the most popular seafood in the U.S. Learn how to make delicious recipes from these top three shrimp cookbooks. Buy these books online at amazon.com 
Image credit – amazon.com 
Top Three Shrimp Cookbook Reviews