Top Three Salmon Cookbook Reviews
26 Aug 2011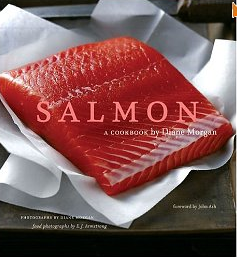 Most people have always thought of Salmon as something that can be cooked in just a couple of ways. These top three salmon cookbooks will come as a big surprise for them as these include a plethora of recipes showing salmon being cooked in just about every imaginable fashion.  Read on to find out more about these top three salmon cookbooks.
1. Salmon: A Cookbook – Diane Morgan
This is an attractive cookbook with striking photographs. The author has filled it with numerous mouth-watering recipes along with useful tips on how to store, prepare, fill, fillet, cut steaks as well as take out pin bones.
The negatives of this book are that it is not really an introduction to salmon, so a beginner may be disappointed. Also, some of the recipes can get confusing, since they often mingle the instructions for quite a few parts of the dish into one paragraph, which can also make improvisation tricky. However, the author manages to make up for this by introducing numerous unique cooking techniques, influencing readers to marinate, cure, preserve, deep-fry, poach, blacken, wok smoke, crust, slow roast, pan roast, and grill their fillets, steaks, and whole salmon. 
2.Simply Salmon – James Peterson
James Peterson teaches at the French Culinary Institute, along with running a restaurant in New York City, and he clearly knows and loves this fish! Altogether an outstanding introduction for salmon cooking with lots more for veteran cooks as well. This book presents the reader with 65 delectable recipes. Utilizing step-by-step photographs and thorough instructions, Peterson gives the home cook a solid foundation in the basics of salmon: what to look for when purchasing fresh salmon; the distinctions between wild and farm-raised; how to clean, bone, and cure salmon; and the appropriate technique for slicing smoked salmon.
The downside to this book is that the author explains how to prepare a medallion from a steak, but offers no pictures of the technique, even though he has published pictures of this procedure in other books.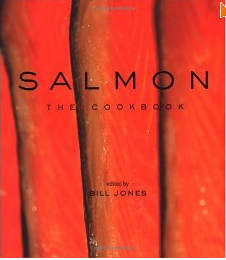 3.Salmon: The Cookbook – Bill Jones
This cookbook is comprehensive with full color photos and more than 120 recipes that detail both Atlantic and Pacific salmon. Suitably organized by meal course, this cookbook incorporates appetizers, soups, salads, and entrees, as well as marinades, curing, and different cooking techniques. The simple-to-follow recipes in Salmon vary from straightforward dishes with minor ingredients to the more intricate. This is certainly a great cookbook for a cook of any level.
These top three salmon cookbooks can easily be purchased online on amazon.com
Image credit – amazon.com
Top Three Salmon Cookbook Reviews